China's inflation up 3% in Nov
Updated: 2013-12-09 09:52
BEIJING -- China's consumer price index (CPI), a main gauge of inflation, grew 3 percent year-on-yer in November, down from 3.2 percent in October, the National Bureau of Statistics (NBS) said on Monday.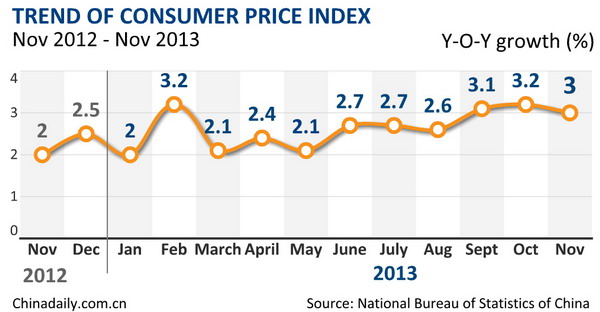 In breakdown, inflation rose 3 percent in cities, and 3.1 percent in rural areas. Food prices rose 5.9 percent from a year ago, while prices of non-food products edged up 1.6 percent, according to the NBS.
On a month-to-month basis, food prices in November dropped 0.2 percent from October. Prices of non-food products remained flat.
CPI rose 2.6 percent in the first 11 months year-on-yer, well below the government's full-year target of 3.5 percent.
The NBS data also showed China's producer price index, which measures inflation at the wholesale level, contracted 1.4 percent year-on-yer in November, following a 1.5-percent drop in October.
Yu Qiumei, a senior statistician with the NBS, said prices in the food category, which accounts for roughly one-third in the weighting of China's CPI calculation, edged down slightly as a whole in November.
Prices of grain, beef, mutton, milk and fruit rose month on month, but prices of pork, fresh vegetables, eggs and aquatic products contracted from the previous month.
November's vegetable prices registered a 3.8-percent contraction from October, but Yu stressed the differences in vegetable prices among various regions. The northeast and northwest of China saw vegetable prices rise month on month due to snow and low temperatures, while vegetable prices fell in most of China.
The moderation in year-on-year CPI inflation in November was due to lower food inflation, according to a research note by Zhi Xiaojia and Lu Ting, China economists with Bank of America Merrill Lynch.
Food inflation fell to 5.9 percent year on year from 6.5 percent in October. Vegetable price inflation dropped to 22.3 percent year on year from October's 31.5 percent and contributed 59 basis points to the 3.0 percent CPI.
Vegetable and pork prices dropped 3.8 percent and 0.5 percent in November respectively.
Zhang Liqun, a researcher with the Development Research Center of the State Council, China's cabinet, said overall prices for November were stable and factors favorable to stable food prices are increasing.
Seasonal factors behind price fluctuations of fresh vegetables are decreasing and CPI inflation could ease further, he said.
Positive for markets,policymakers
Zhi and Lu, of Bank of America Merrill Lynch, said with November CPI inflation slowing more than expected and PPI inflation remaining negative, markets could breathe a sigh of relief. In the past few weeks, markets have been worried that the central bank could be forced to tame the rising CPI by tightening the credit supply, leading to rising bond yields.
Monetary policy is expected to remain neutral in December and into 2014, even though money market rates and bond yields could rise on interest rate liberalization, according to Zhi and Lu.
"Muted CPI inflation and slightly better growth than expected should be positive for markets," they said.
This latest data confirms that an economy which slowed down noticeable earlier this year has regained solidity, and analysts expect the recovery to continue.
Gross domestic product growth accelerated to 7.8 percent in the third quarter this year, up from 7.5 percent in the second and 7.7 percent in the first.
Qu expects inflationary pressure to remain modest across the board, held down by a negative output gap, despite anticipated seasonal fluctuations in food prices around Chinese Lunar New Year on Jan 31.
"Monetary policy will retain its status quo over the coming quarters," Qu said, maintaining that inflationary pressure would be manageable, allowing policymakers to support growth during a period of structural reform.