Experts offer views on improved Web governance
A1 I have paid attention to checks on products and services in the nation's first Cybersecurity Law, and I have to say it is a necessity. In the past, we did not notice some foreign products or services had security risks that might affect our state security. But after some time, their influence had shown up and brought challenges for us in cyberspace governance. To safeguard the country and people's interests, checks should be implemented, as similar reviews are also carried out in the United States and the European Union.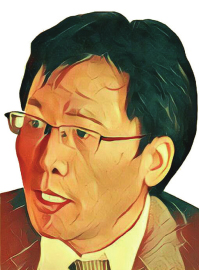 Wang Sixin, law professor at the Communication University of China.
A2 It's a complicated issue when we combine legal affairs with the internet. It is good to disclose our legal procedures and laws, but this does not mean everything in these legal documents should be open. For example, cases involving children are not suitable to be disclosed online. China's top court has been exploring judicial transparency, but I think its speed is too fast. Such transparency now has brought disputes, which is why I said we should think twice about disclosure, quickly making guidelines or introducing further openness through legislation.
A3 The urgent issue that should be resolved in cyberspace governance right now is to improve coordination between the Cyberspace Administration of China and other governmental departments. The more communication they have, the more effectively they will resolve online problems. Moreover, the country should make more efforts to educate people in cyberspace administrations. Now, the number of such talents is far from enough.
A4 I have followed all of the hot issues in cyberspace this year, such as how to regulate and supervise online live shows, how to improve the management of cross-border data and what achievements a new leading group of China's Cyberspace Administration will bring to us. I want to know their latest ideas in administering cyberspace, as well as what actions they will take to safeguard the cybersecurity.
A5 Many hot issues can be discussed in Wuzhen this year, as there are many online problems in the world, in China or in specific regions. I don't think the WIC must reach some consensuses or issue many documents on cyberspace governance. The greatest importance is that this platform not only expresses China's opinions on administering the internet, but also absorbs others' experiences.