Experts offer views on improved Web governance
A1 I participated in the drawing up and review of China's first Cybersecurity Law. It can be said that it is a guide for our country in cyberspace governance, but some online problems are still not solved in the document. Administering cyberspace needs the coordination of many governmental departments, but in the law, some duties or what role each department plays is still confused. Meanwhile, what we should do when our country is being attacked online is also unclear if we read the law. In other words, the law needs to be improved and I think we should give ourselves some time to see whether we can implement it.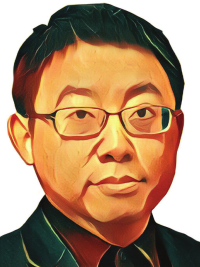 Shen Yi, deputy director of the Cyberspace Governance Study Center at Fudan University in Shanghai
A2 We should make clear why we open our judicial work. What we want finally is to provide better legal services for residents and improve our work efficiency. In this way, judicial transparency should be estimated by the quality of openness instead of how much content we disclose to the public. Technology or the internet, after all, is an assistant or platform for judicial work. For a litigant, an effective and quick solution for his dispute is what he wants to see.
A3 It's urgent to let our country's officials, especially high-ranking ones, better understand the internet, as their understanding relates a lot to cyberspace governance. In the past, many officials resisted the internet and had no idea about it, let alone use it to deal with governmental affairs. Now, a certain number of them have realized the importance of the internet, opening official websites or Weibo or Wechat accounts, which should be encouraged. But I have to say some of them still do not know the internet, or their understanding of the virtual world is still insufficient. Knowing the internet does not mean searching for some information online or clicking a mouse. Instead, it means taking the internet as a platform and using the open channels to connect residents and help them solve problems. Better cyberspace governance will rely on whether officials understand the internet.
A4 The greatest significance of the WIC is that it is the world's only conference focusing on cyberspace governance and it is hosted by a developing country. I care more about the voices, debates and different countries' experience in administering cyberspace at the conference, as well whether the communicative platform fully plays its role.
A5 It will be hard for the WIC to achieve some breakthrough developments, but it's a good stage to express our ideas on the cyberspace governance. I hope we can develop some long-term projects and see improvements every year at the conference. We should be patient with regard to the WIC.