Experts offer views on improved Web governance
A1 The first Cybersecurity Law is a big event for the nation, as the legislation was finally published after a long period of preparation.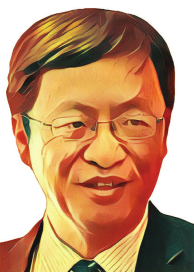 Li Yuxiao, secretary-general of the Cybersecurity Association of China
It is a legal framework for the cybersecurity industry and will be important in dealing with security issues in the cyberspace.
The law first clarifies several hot issues, such as online personal information protection, emergency measures against cyber attacks and the responsbilities of Web enterprises. It can be taken as a guide in the industry and will also make people more confident when online threats occur, but it is still just a set of basic principles. Some practical and specific rules need to be added, updated or adjusted in the future as we meet new online security problems.
A2 The combination of laws and the internet should be encouraged. I'd like to see a greater connection among our legislation, justice and law enforcement, as well as improvements to judicial efficiency and credibility. But the connection is just the first step. The aim is to protect people's rights in cyberspace. How to ensure that the internet plays a greater role in helping residents solve their disputes is crucial as we promote the industry.
A3 When and whether the details of the new law can be made more specific is an urgent matter, as the more detailed the law is, the safer cyberspace will be. Meanwhile, more protection for young netizens is also an urgent issue. It's good that the protection of minors has been added to the law, but it's far from enough. Moreover, it's a must and urgent to draw up more international rules in cyberspace governance and reach more agreements in cross-border online crimes and security issues.
A4 I will host and participate in two forums at the WIC. One is to look at the developments, promotions and contributions the internet has made in recent years, while the other is to discuss with an international think tank. I'm looking forward to knowing what foreign guests' ideas about internet governance.
A5 What and how many consensuses we reach in a global conference, is not the most important issue. Instead, findings and explorations in governing cyberspace is needed more in such international communication and negotiation. Reaching an agreement or finding what we have in common takes time. What we should do is to be patient in the talks and make efforts to seek more common views.