Stores, banks join book-sharing economy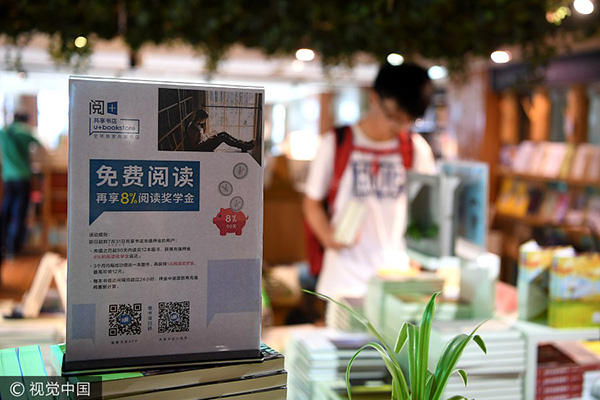 A reader picks books at a sharing bookstore in Hefei, capital of Anhui province, July 18, 2017. [Photo/VCG]
China is embracing an era of sharing economy. After shared bikes, sharing books are the next trend.
The book-sharing program at Sanxiaokou Xinhua Bookstore in Hefei, capital of East China's Anhui province, has been running for more than three months since its launch on July 16.
Customers are encouraged to borrow up to two books, from all books available in this store, for free via an app, pay 99 yuan online as the deposit and return the books within 10 days.
A survey of 601 app users conducted by the company in late July found that more than 90 percent of the readers said they may want to keep some of the borrowed books permanently, but they don't want to visit the store again to complete the purchase, Zhu Fei, a manager responsible for the book-sharing program at Anhui Xinhua Media, a State-owned company that runs the Sanxiaokou bookstore, told China Daily in September.
So, when another nine stores joined the book-sharing program in August, the ability to purchase the borrowed books was made available on the app.
Zhao Shiping, a manager of the Sanxiaokou store, said that the daily customer flow in the first week of the book-sharing program was about 7,000 while the figure for the same period last year was 5,000 to 6,000, Jianghuai Daily reported in July.
"Book-sharing will reduce barriers for book purchasing and increase customer flow, which will increase the business value of the bookstore, its brand value and increase its value as a partner for companies outside the book sales sector," according to an executive of Anhui Xinhua Media, who was unidentified by Jianghuai Daily.
In addition to bookstores, banks have also joined the trend of book-sharing.
Two branches of China Everbright Bank, the Wanliu branch in Haidian district and the Wangjing West branch in Chaoyang district, introduced book loan service at the end of this July.
The service is free for seven days and 0.1 yuan is charged after that and 0.5 yuan after 21 days. Readers can return borrowed books to any branch of the bank.
This book-sharing project, a cooperation between Everbright Bank and an app called Youshugongdu, which translates as "let's read books together", will be expanded to other outlets to turn each outlet into a small community library with 1,000 to 2,000 books.
Hu Xinyi contributed to this story.