New biz models herald change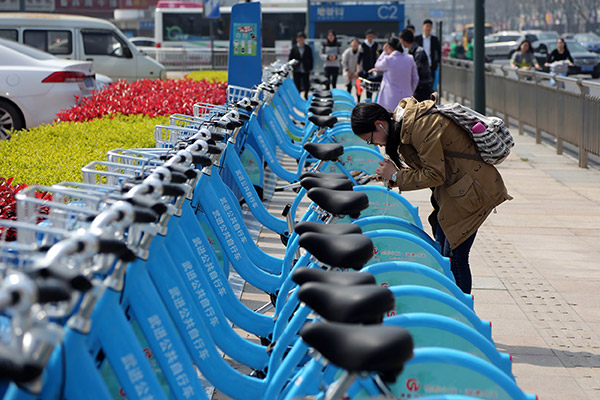 A denizen of Changzhou, Jiangsu province, rents a bike of Changzhou Youon by scanning a QR code. [Photo provided to China Daily]
Internet-based innovative firms ride tide of IT and fast-upgrading consumer demand
BEIJING-Is there any connection between a jungle of seemingly discarded bikes crowding a suburban subway exit and the smell of money in the heart of the financial market?
In China, there is.
Riding the tide of bike-sharing, a new business model emerging in China, Changzhou Youon Public Bicycle System Co Ltd went public on the Shanghai Stock Exchange on Aug 17, the first initial public offering by a company providing bike-sharing services.
With its blue-and-yellow bikes ready for use with a simple scan of a QR code by a mobile phone, Youon is set to get traction on the stock market.
Its shares soared by the daily limit on the first trading day. The same happened for the following 10 trading days.
The success of Youon's IPO was an epitome of quiet-but-ubiquitous changes to China's economy brought by a new force of internet-based innovative businesses.
Youon and its more prominent rivals, Mobike and Ofo, have shaken up the transport industry. Whizzing down the street on colorful bicycles, rather than in a car, has become a new fad.
At the exit of Anheqiao North subway station in the remote northwestern corner of Beijing, a bicycle jungle forms in the morning travel peak and is whittled down in the evening as throngs of commuters leave the station and pedal back to their homes.
"Bike-sharing is much cheaper than taking a taxi, and a good way to exercise," says Zhao, whose home is a five-minute ride from the subway station.
China's bike-sharing market is expected to rake in 10.3 billion yuan ($1.5 billion) in revenue this year, a 736-percent increase from 1.2 billion yuan in 2016, according to a report from iiMedia Research.
It estimated the number of shared-bike users in China will hit 209 million this year, compared with 28 million last year.
It's not just transportation. New business models inspired by information technology and upgrading consumer demand have slipped into all sectors of the economy.
The rise of online shopping has forced brick-and-mortar stores to either shut or focus on better services and customer experiences.
Mobile payment has made it possible to order food, pay credit card bills and manage stock accounts at anytime, anywhere, or buy a pancake at a roadside breakfast stall without having to carry cash.
The value of third-party e-payments in China has grown at an annual rate of more than 100 percent since 2015, offering consumers an alternative to bank payment channels at lower transaction costs, global ratings agency Moody's said in a report earlier this year.
In the countryside, farmers are learning how to advertise and sell fruit through online channels such as Taobao or WeChat.
In urban homes, a variety of applications on smartphones have boosted consumption of novel services, including in-home massages and manicures.
A bigger slice of the nation's economic pie is now digital. The aggregate value of China's digital economy accounted for over 30 percent of GDP last year, according to the China Academy of Information and Communications Technology.
The wave of change is evident in the capital market, with ripples sent beyond the border.
The total market value of listed internet-based firms of China soared 48.7 percent year-on-year to a record high of 7.24 trillion yuan (about $1.1 trillion) in the second quarter, according to the CAICT.
The market value of those listed in the United States accounted for 57 percent of the total market capitalization. Worldwide, nine Chinese firms, including Alibaba and Tencent, ranked among the 30 largest internet-based companies in market value, with their combined share exceeding 30 percent for the first time.
The new force is reshaping China's economic structure. The economy, once reliant on fixed-asset investment and exports, is increasingly fueled by services and consumption, and the internet is speeding up this process.
Online retail sales surged 33.7 percent year-on-year in the first seven months of this year, with online sales of goods accounting for 13.8 percent of the country's overall retail sales of consumer goods, up 2.2 percentage points from a year earlier, according to data from the National Bureau of Statistics.
Thanks to the revolution of information technology and innovative business models, the cost of consumption is getting lower, which helps boost economic growth, said Lyu Wei with the Development Research Center of the State Council, China's Cabinet.
In the first half, final consumption contributed 63.4 percent of GDP growth, and will probably increase more in future.
In the long term, the development of e-payments and e-commerce will encourage China's economic rebalancing from investment toward consumption, according to Moody's.
Consumption is the first sector to benefit from the extensive application of internet technology, because the market threshold in this sector is relatively low for newcomers, said Wu Hequan from the Chinese Academy of Engineering and president of the Internet Society of China.
"Eventually, the internet is going to remake the traditional industrial sector," he said.
For example, big data could be used to analyze the preferences of car buyers and guide production; millions of small manufacturers could upgrade their products by seeking help from professional designers through online platforms; sensors and software could make the production process smarter.
Government regulation is catching up with the changing economic landscape. Chinese authorities have cut red tape and slashed taxes to support innovative businesses, and tightened oversight over some risky new sectors, including internet finance.
In June, Chinese Premier Li Keqiang told a Cabinet meeting that authorities should avoid simply applying traditional methodology on sharing economy and regulate it in a "tolerant while prudent" manner.
More needs to be done, as new business models and technology could bring new problems and demands, said Zhang Zhanbin, a researcher with the Chinese Academy of Governance.
The regulatory framework remains fragmented, with too many agencies overseeing one sector, while the standards of regulation are not unified, he said.