CSCEC sees new contracts surge 25% to $240b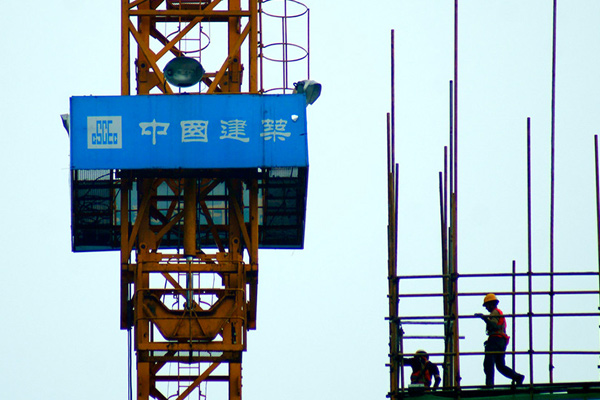 View of a construction site of China State Construction Engineering Corporation in Yichang city, Central China's Hubei province, April 12, 2016.[Photo/IC]
China State Construction Engineering Corp Ltd (CSCEC), China's largest construction company and biggest building work contractor, said on Tuesday it signed contracts worth 1.6 trillion ($241 billion) in the first three quarters of this year, up 25 percent from the same period last year.
The company said the new deals signed in its real estate business, infrastructure business and design and survey business in the first three quarters of this year hit 1 trillion yuan, 504.9 billion yuan and 8.3 billion yuan respectively, up 18.8 percent, 40.4 percent and 40.1 percent year-on-year.
New contracts on the domestic and overseas businesses of CSCEC amounted to 1.5 trillion yuan and 144 billion yuan respectively, increasing by 22.5 percent and 56.3 percent year-on-year.
In addition, CSCEC's total construction area reached 1.1 billion square meters, increasing by 14.6 percent year-on-year. The new construction area covered 232.2 million sq m, up 23.5 percent year-on-year, while the completed area covered 85.8 sq m, up 33.1 percent year-on-year.
According to the announcement, the real estate business of CSCEC showed a rising trend in the first nine months of this year, with a total contracted sales area of 11.6 million sq m and contracted sales of 167.8 billion yuan.
The company's land reserve amounted to 80.8 million sq m at the end of September and its newly purchased land reserve reached 14 million sq m.
The stock price of CSCEC at the Shanghai Stock Exchange rose 1.6 percent to 9.55 yuan by 10:30 am Wednesday.