Recycling takes on a whole new meaning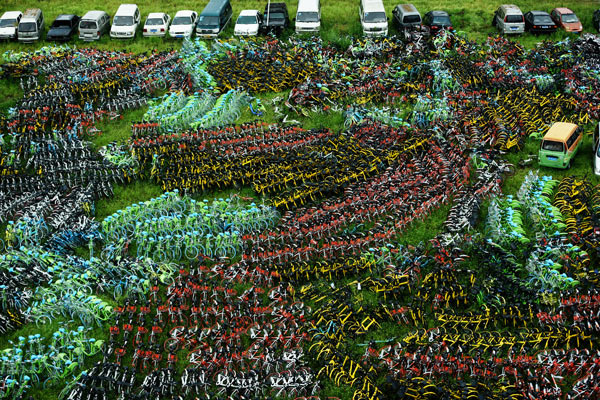 Tens of thousands of shared bikes have been dumped at a construction site in Hangzhou, capital of East China's Zhejiang province. [Photo by Long Wei/For China Daily]
They were once considered trendy, but now they are simply a nuisance.
The bike-sharing phenomena has left millions of cycles strewn across pavements in major cities in China less than a year since they first hit the streets.
A fleet of rainbow colored bicycles are now minus seats or have broken wheels and punctured tires, as well as missing locks.
"The shared bikes companies should take responsibility and recycle or reuse these bikes," said Zhu Dajian, director of the sustainable development and urbanization think tank at Tongji University in Shanghai.
Repairing or recycling broken bikes has become a key issue for the industry.
The Chinese Cycling Association estimated that about 20 million shared cycles will be on the road by the end of the year, a tenfold increase compared to 2016.
When eventually consigned to the scrap heap, they will generate up to 300,000 tons of waste metal.
Maintenance fees for each shared bike is roughly 1,000 yuan ($155) in certain parts of the country. A new bike costs just 740 yuan, so it is cheaper to buy one than patch them up.
Already local authorities have moved quickly to regulate the market in used bikes.
Last month, the Beijing Municipal Commission of Transport announced that shared bikes, which had been on the road for three years, should be scrapped.
Bike-sharing companies should also appoint staff to carry out maintenance and relocate cycles.
"If they do not have enough manpower, they should outsource it to third-party companies," Zhu at Tongji University said.
Ofo Inc, one of the leading players in the sector, has joined forces with real estate giant China Vanke Co, the China Association of Circular Economy and the Beijing Renewable Source Service Center to promote recycling broken-down bikes.
Under the agreement, the cycles will be handed over to Beijing Renewable to be turned into new machines.
Major rival Mobike Technology Co Ltd has already wheeled out a similar plan after linking up with China Recycling Development Corp Ltd.
"The bike-sharing companies should not only provide rental services, but also stick to the theory of a circular economy, and lay the focus on manufacturing, operations and recycling," Zhu said. "This is the real sharing economy.
"Instead of adopting low-cost designs, bike-sharing companies should focus on improving durability," he added.