UnionPay launches mobile payment in public transportation in 20 cities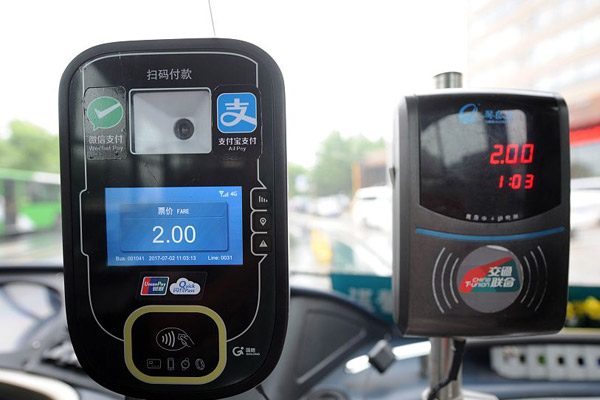 A point-of-sale terminal (left) that supports various kinds of mobile payments, including AliPay, WeChat Pay and Union Pay's Quick Pass, is pictured in a bus in Qingdao, Shandong province, July 2, 2017. [Photo/VCG]
China UnionPay now has its eyes on public transportation, with its mobile payment service launching in the sector in 20 cities in less than five months, according to a report by Securities Times.
The domestic payment service provider and Guangzhou Metro made a joint announcement Tuesday that passengers can use Apple Pay with UnionPay's QuickPass service to directly pass through all subway stations' fare gates in Guangzhou, capital city of Guangdong province, the first of its kind in China.
QuickPass is UnionPay's "tap and go" application that allows users to complete transactions by scanning QR UnionPay codes or placing their smart mobile devices near the card slots or the near-field communication technology (NFC) reading areas of compatible point-of-sale (POS) terminals.
Last week, the service became available in buses, subways, high-speed trains and various kinds of bike-sharing platforms in Hangzhou, Zhejiang province.
It has also been used in the intelligent bus projects in Guangdong's Zhaoqin city and Fujian's Longyan city. Passengers can pay the bus fare by UnionPay chip cards, all kind of smartphones' mobile payment solutions with QuickPass or scanning UnionPay QR codes.
Public transportation, having a large user group, high frequency of use and position information, is one of the best industries where companies can attract users and collect data, Yu Baicheng, an analyst at wdzj.com said, Beijing Business Today reported.
It is expected to become a fierce battle where UnionPay and the third-party payment giants collide.
AliPay's QR code-scanning payment has marched into the public transportation systems of 16 cities including Shanghai, Shenzhen, Hangzhou and Zhengzhou, enabling buying subway tickets and topping up fare cards.
WeChat Pay also has launched QR code-scanning payment in six cities' public transportation systems.
In Beijing, JDPay, the online payment service of e-commerce giant JD Group, has joined hands with Yitongxing, the official online payment platform for Beijing Subway, to launch QR code-scanning payment, Beijing Business Today reported.
However, mobile payment platforms such as WeChat Pay and AliPay still started relatively late in this field, as public transportation systems have already had their own payment companies, Wang Pengbo, an analyst at Analysys, said, according to the report.
"The outside payment companies have to negotiate with the public transportation systems if they want a share," Wang said.
For UnionPay, the achievement of tapping into 20 cities in less than five months shows its strength in offline payment market, an industry insider told to Beijing Business Today.
The payment service provider has built a foundation that it had launched its bank card payment that includes electronic cash in the transportation systems of more than 300 cities late last year.