Exporters hope to set global market for fireworks on fire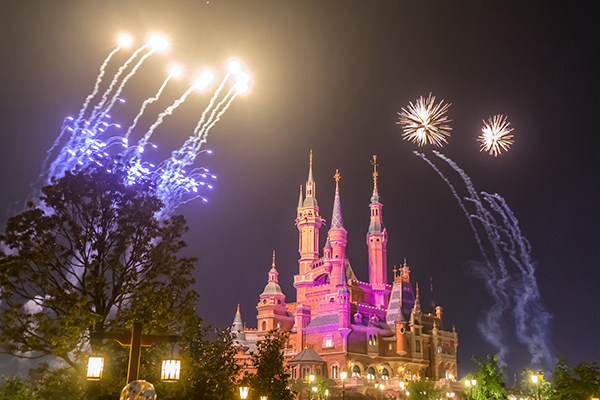 Fireworks light up a castle of the Shanghai Disney Resort. [Photo/China Daily]
Chinese producers of fireworks and firecrackers are hoping to make tremendous gains overseas and expand global market share amid growing demand.
As the largest producer and exporter of fireworks and firecrackers, China considers the products a national intangible cultural heritage. China produces and exports 90 percent of fireworks and firecrackers in the world.
Globally, the annual value of these products stands at $12 billion. The United States, Germany, India and Vietnam also produce some fireworks products, according to the China Fireworks and Firecrackers Association.
Golden Peak Fireworks Corp is one of the largest manufacturers of the products in Wanzai, Jiangxi province, where about 60 percent of factories focus solely on exporting. The company exports all its fireworks, and it netted sales revenues of $10 million a year, surging 150 percent over 15 years.
With a booming business in the US, Golden Peak launched a wholesale outlet in the state of Indiana. It usually rents a large retail space for one month in July every year, the busiest season with Independence Day celebrations, and its products carry price tags ranging from $3 to $700.
"Americans like large-scale fireworks. There is a considerable growth potential in the US market with strong seasonal features. Our company sells the biggest amount of products on July 4, followed by Christmas and New Year," said Chen Shimei, general manager of Golden Peak.
"American consumers are excited about buying fireworks, and they can spend several thousand dollars on the products. I think they are more excited about fireworks than Chinese," she said.
This shows every indication of growth, she added. "I see larger demand from states in the south. Many kids still save money to buy it."
Golden Peak also exports to South America, especially Brazil and Argentina, in addition to Southeast Asian countries, including Thailand and Indonesia, as fireworks are used on religious and public holidays.
In the next few years, the manufacturer plans to further expand in Europe, for instance, in Germany, Spain and Italy. It attends the Spielwarenmesse International Toy Fair in Germany every year, to attract more international buyers.
Wanzai Shuangyu Fireworks Manufacturing Co Ltd, another major fireworks exporter in Wanzai, said it now mainly exports to the United Kingdom, Kazakhstan and Southeast Asia.
This year, the company saw sales growth of 30 percent in Indonesia year-on-year.
Wanzai Shuangyu highlighted the need to increase branding efforts, and the company plans to expand the markets in Africa and the Middle East, where the use of fireworks is becoming more frequent.
Producers plan to strengthen their research and development in China, develop new products, and further raise their competitive advantages.
Qian Xiongfei, an official at the security administration of the Ministry of Public Security, said: "We need to integrate the resources in China and grow together, and raise our international competitiveness."