Feeding Chinese tech to the world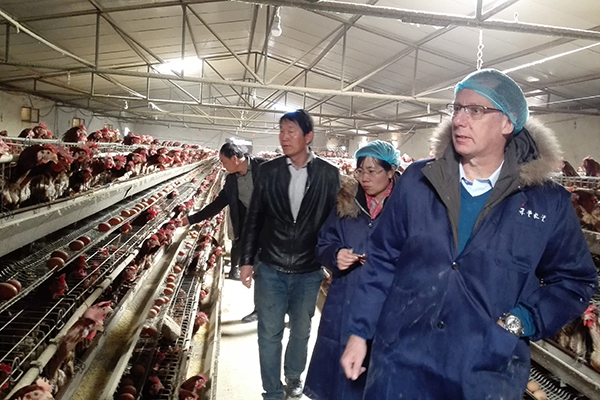 Jan Cortanbach, CTO of Royal De Heus China, an investor in Wellhope, inspects one of its facilities in March. [Photo provided to China Daily]
Wellhope Agri-Tech is going full steam ahead to dominate the animal feed industry
Wang Zhenyong has just applied for his fourth passport. That's because as overseas business vice-president of Wellhope Agri-Tech Joint Stock Co, China's leading feed producer and broiler meat processor, he travels a lot and the pages of his passport get filled up quickly with visas and arrival stamps.
Wang's annual business travels include, but are not limited to, five visits to India, four trips to the Democratic People's Republic of Korea, three landings each in Russia and Iran, one visit each to Nepal and Uganda-all to expand Wellhope's global footprint.
He notches up 300,000 miles (480,000 kilomiteres) every year. He is a top customer for many airlines. By the end of this October, Wang helped set up three joint ventures in India, Iran and the Philippines.
And another two are under negotiation. International markets have already contributed over 400 million yuan ($57.9 million) in revenue to Wellhope.
Founded in 1995, the Shanghai-listed Wellhope's January-September revenue reached 8.48 billion yuan, up 15 percent year-on-year.
On Oct 20, the company announced that it invested 24 million yuan in a feed production and pig breeding facility in Manila, the capital of the Philippines. The joint venture would hire around 500 local workers, according to Wang.
This will help Wellhope to elbow its way into the local market that has a population of over 100 million.
"The Philippines is one of our targets overseas as it has shortage of meat supply but abundant water, soil and labor. Southeast Asia, South Asia and East Africa are on top of our agenda," said Jin Weidong, chairman of Wellhope.
The company has tied up with Southeast Feeds Specialist Corp in the Philippines. "We are grateful for Wellhope's trust and we would never infringe on Wellhope's benefit. And after retirement, our successors will also write such a guarantee," said George Co, general manager of Southeast Feeds.
Jin expects international markets will account for 500,000 metric tons of feed sales and net profit will reach 100 million yuan before 2018.
"The international sector generally contributes over one-third of the revenue for big names in the field such as Charoen Pokphand Group, Cargill and ABN. In the following 10 years, our aim is to be the top 10 in feed industry around the world," said Jin.
Wellhope is among the first few Chinese agri-tech companies that started to expand globally over a decade ago. In early 2005, the company signed a joint venture contract with the Vaidya family in Nepal, an influential industrial player in the region.
The Nepalese venture proved to be a big success in the following years and set the benchmark for the feed business in the country.
"More important is that the Nepalese company worked as a seed for the market. That seed will sprout and soon branches will be visible," said Wang. "Going global may be hard. But the hardest thing was to convince my colleagues who could not speak English and feared to go abroad."
But Wang did not worry after 2011 when China's feed market saw surplus. China's overall annual output reached the peak of 200 million tons, according to research of Industrial Securities.
"Going global and extending industrial chain become a reasonable choice for those ambitious and fledgling companies," said Chen Jiao, chief agricultural analyst at Industrial Securities.
What's more, the Belt and Road initiative worked as a springboard for the Chinese companies seeking to expand into international markets. After the initiative was launched, Chinese companies won the trust and respect from local partners in various markets outside China, said Wang.
In 2014, Wellhope finally went public. Jin determined to go full steam ahead to realize his dream of making Wellhope a global leader.
But that was easier said than done. The past few years saw the tide turning against the international operations of Chinese private and State-owned enterprises. Only those helmed by a captain with both foresight and a qualified crew succeeded to weather the storm.
Jin is one such captain. He received a PhD from Shenyang Agriculture University. That's extraordinary because agriculture was and remains the last choice as a career option for most Chinese, given the hard work required and low returns.
Few educated people choose the feed industry as their field of endeavor even though it was opened up to private and international business in the early 1980s.
"I take part in all overseas negotiations because the ability to communicate in a foreign language is vital in any overseas negotiation. It helps me find a potential opportunity, qualified local partners and judge the investment environment," said Jin. "And I believe this is the key for the success of our international business."
Besides Jin, six out of seven founding members of Wellhope hold doctorate degrees, effectively making it more of a technology company than one engaged in agriculture.
Ten years after starting up, Jin chose to cooperate with De Heus, Holland's largest feed company, which helped improve company's technical level and also enhanced its international way of thinking and operating.
Zhang Xin, vice-president and human resources manager of Wellhope, said the company now hires only those who are versed in the English language. It also provides weekly English classes and administers an annual English language proficiency test to its staff.
"After 30 years of development, Chinese feed companies have built up advantage in terms of technology, capital, talent and management. It is time for them to set sail," said Chen.
For the coming year, Wang said his new mission is to make leading companies in various local markets outside China Wellhope's partners.
"The emerging markets look like nuts with a hard shell. But if you have a handy nut-cracker, you can enjoy the delicious kernel.