ICBC adjusts services for expanding firms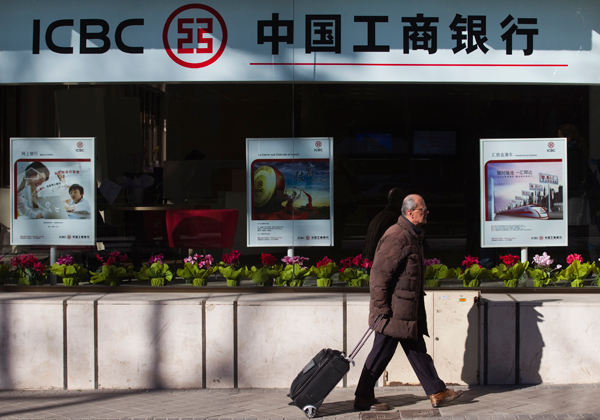 A man pulls a bag as he walks past a branch of Industrial and Commercial Bank of China in central Madrid. [Photo / Agenices]
China's largest State-owned commercial bank, by assets, is adjusting its financial services, as Chinese companies expanding their business abroad go through a transition from acquisitions of natural resources to technology advancement and industrial upgrading in more diversified countries.
Since the beginning of 2016, most of the Chinese companies going global that are supported by the Industrial and Commercial Bank of China Ltd have come from high-tech and strategic emerging industries. Statistics from the ICBC show that information technology, high-end consumption and industrial sectors accounted for 66 percent of the number of deals for cross-border M&A conducted via the bank.
"As China has entered the stage of moderate-speed growth, Chinese companies are transforming from scale expansion to quality enhancement and breakthrough innovation. Their demands for high-end technologies, advanced products, core patents and ripe management experience keep increasing along with the demands for overseas asset allocation and the integration of upstream and downstream industry chains," said Li Feng, general manager of the ICBC's investment banking department.
To adjust to the changes in the theme and destinations of Chinese companies going global, the ICBC now provides investment banking services including deal making, due diligence investigations and post-merger integration through a broad client base in and outside China. The bank also offers localized commercial banking services, such as debt restructuring, global cash management and settlement, via its branches in the host country of a takeover bid.
On top of this, it provides multiple financing portfolio solutions including M&A loans, equity investment and the introduction of strategic investors to help the clients complete cross-border acquisitions and effectively control their financing costs, Li said.
The ICBC has built a strong team of analysts to issue previews on cross-border M&A and conduct research on major industries, national policies and country risk. When China's central bank makes frequent adjustments to window guidance-an instrument of monetary policy-on capital flows, the bank will design proper transaction structures and financing solutions for the client based on the judgment of its researchers.
In the first half of 2016, the number of China's overseas M&A deals in the sectors including technology, media and telecommunications, industrial products, and automobile and transportation accounted for two-thirds of the total, said Zhang Xinyun, executive vice-president of JIC Investment Co Ltd.
The amount of Chinese companies' cross-border M&A reached $79.3 billion in Europe and North America last year, doubling the amount in 2011. In resource-oriented regions like Africa and South America, the amount of M&A by Chinese companies fell 84 percent to $2.1 billion.
"It shows that Chinese companies are increasingly eager to acquire comprehensive resources, apart from natural resources, of companies in the leading sectors of developed countries," Zhang said at a recent forum on cross-border acquisitions.
Another trend is that private companies are gradually taking a leading role in overseas M&A. Compared with State-owned enterprises, private companies lack sufficient experience in overseas M&A and are less capable of operational integration, according to the ICBC.
"Drawing on our strengths in the global network and the interactions between commercial banking and investment banking, we provide various financial services to clients during the entire work flow," Li said. "By highlighting on post-merger synergy of both parties and the possibility of successful integration, we help the client introduce strategic investors and balance risks and returns."