Central government targets to boost SOEs' profitability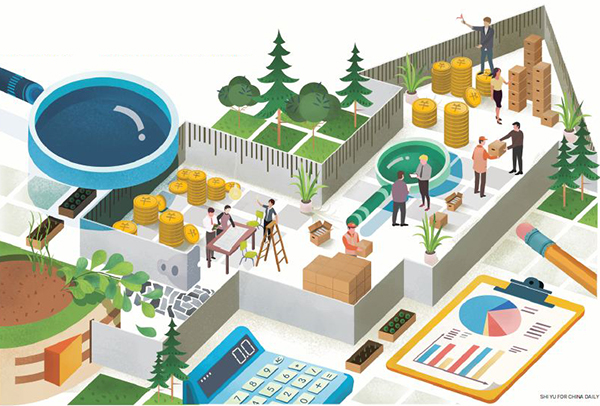 Despite progress, problems in management and internal control pose risks and need to be solved
The central government has reiterated its determination to improve competitiveness and profitability for State-owned enterprises, especially for those directly administered by the State Council.
This was one of the decisions made at a State Council executive meeting, presided over by Premier Li Keqiang on Nov 29. The meeting also aimed to further adopt reforms within SOEs by strengthening internal management, such as establishing a stricter rewarding and punishment system, as well as more stringently monitoring overseas investments projected by these major companies.
At the meeting, the premier and other high-level officials listened to reports by the Supervisory Board of Key Large State-owned Enterprises, a watchdog under the State Council to monitor SOE management and profitability.
The board's figures showed that these SOEs reversed a 20-month decline in operating income in September and the increase continued in October, which a statement released after the meeting said has effectively supported the country's steady and healthy economic and social development. Statistics for November were not yet available.
"SOEs are the backbone of the national economy and must keep operating income and net profits increasing to contribute to the increase of fiscal revenues and social development," the premier said.
Meanwhile, the statement also said that the board found some of these SOEs are having problems in financial management, operations and internal control, which posed a risk of losing State-owned assets.
The premier urged SOEs to improve their competitiveness by perfecting internal management and raising efficiency in utilizing capital. "SOEs, especially those administered by the central government, should set an example for transforming from the traditional model of growth to a new and high-end one," Li told the meeting.
Last year, the central government released guidelines on SOE reforms, and the recent meeting was the latest move to achieve the goal that demands SOEs keep and add value to State-owned assets. Since 2013, the premier has presided over several meetings each year to oversee these entities.
The move also came a month after the State-owned Assets Supervision and Administration Commission released a list of more than 2,000 SOEs that have become economically unviable "zombie companies" in industries with severe overcapacity, kept alive only with aid from the government and banks.
Figures given by the State Council demonstrated that private enterprises realized a double-digit increase in profits from January to October, which was far higher than SOEs.
During the first 10 months, the gross income for SOEs increased by 1.5 percent compared with the same period last year, including 0.4 percent for SOEs administered by the central government, said Kuang Xianming, director of the economic institute at the China Institute of Reform and Development.
However, net profits for central SOEs still declined during this period, while the country's SOEs combined together saw an increase of 0.4 percent in net profits, Kuang said.
The economy still faces downward pressure on growth as exports and private investment, two drivers for the past few decades, are slowing down and even declining. Experts said SOEs are key players in providing steady employment opportunities and momentum for China's economic development.
Major economic indicators showed that SOEs are improving the status quo in terms of gross income and net profit this year, but still lag behind private enterprises in profitability and rate of return, said Liu Shengjun, vice-president of CEIBS Lujiazui Institute of International Finance in Shanghai.
But improving management quality and efficiency cannot be achieved in one or two years. It is a long-term goal as the country proceeds with SOE reforms, Liu said.
The meeting also decided that the board, on behalf of the State Council, will tighten supervision on overseas investments made by central SOEs.
Recent years have seen a surging number of cases of Chinese SOEs acquiring or merging with foreign companies in deals worth billion of US dollars. However, Chinese companies going global means a large amount of foreign exchange reserves will be spent, said Liu Zhenghong, a professor of foreign relations at Anhui Normal University. "However, SOEs should be cautious when the renminbi faces depreciation pressure, as US dollars are becoming stronger against other major currencies," he added.