Big merger forms No 2 steel giant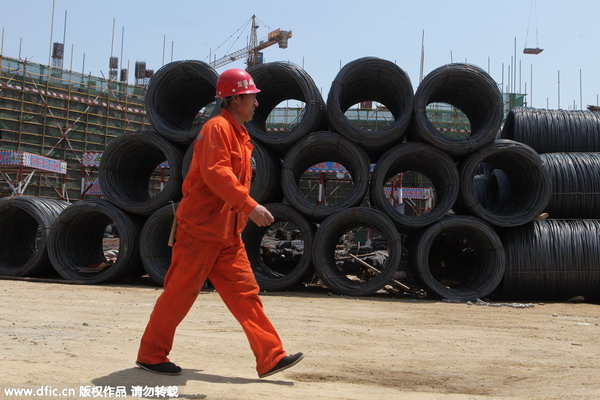 A Chinese worker walks past a stack of coiled steel rods on a quay in Rizhao city, East China's Shandong province, April 29, 2015. [Photo/IC]
Newly created China Baowu Steel Group Corp aims to be a global leader as it undertakes multiple market-based reforms, including eliminating excess capacity and enhancing its international competitiveness.
The company-formed from the merger of Shanghai Baosteel Group Corp and Wuhan Iron & Steel Group-was launched in Shanghai on Thursday, becoming the world's second-largest steelmaker, just behind ArcelorMittal.
Ma Guoqiang, chairman of Baowu, said the new group will lead in industrial growth and technological innovation through cutting overcapacity, structural reform, technological upgrading and green development.
He said it will elevate the technological and production standards of the Chinese steel industry, helping Chinese companies participate in the Belt and Road Initiative.
Based on the 2015 capacity of both Baosteel and Wuhan Iron & Steel, its sales revenue is estimated to reach 330 billion yuan ($47.9 billion), equivalent to around 123rd place on the Fortune 500 in 2015. The total assets of Baowu are forecast to reach 730 billion yuan.
Baoshan Iron & Steel, the listed unit of Baosteel, will issue new shares to shareholders of Wuhan Iron & Steel in order to merge the companies, a plan that the China Securities Regulatory Commission started reviewing on Thursday.
The reorganization is an important step in the reform of SOEs directly under the central government, said Du Hui, a steel analyst with Shandong-based Zhongtai Securities Co Ltd.
"The reorganization is a concrete step forward in the strategy proposed by the government at the beginning of this year to encourage cross-sector and cross-region mergers of steel companies with mixed ownership. This will speed up the elimination of outdated capacity," said Du.
The two companies can consolidate their businesses in many ways, including research and development, production, sales and innovation, Du added.
"For instance, Baosteel's manufacturing base in Zhanjiang, Guangdong province, and Wuhan Iron and Steel's manufacturing base in Fangchenggang in the Guangxi Zhuang autonomous region are very similar. The two projects can be managed effectively to avoid competition in order to increase efficiency and save costs," said Du.