Chint promotes M&A strategy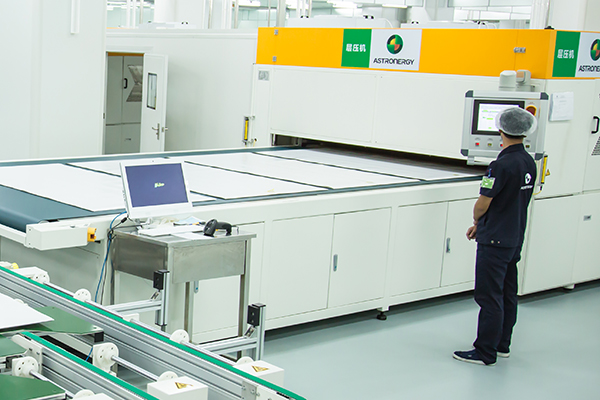 An engineer monitors the automated production line at Chint Group's photovoltaic components factory in Hangzhou, Zhejiang province. [Photo/Xinhua]
Company rides explosive growth in international business to expand beyond electrical equipment
The Zhejiang-based Chint Group, China's leading industrial electrical equipment and new energy enterprise in the private sector, is pushing forward its overseas mergers and acquisitions.
At the same time, it is forging cooperation agreements on production capacity and equipment manufacturing along the Belt and Road Initiative.
"We are going to do more acquisitions to complete a whole industrial chain," said Nan Cunhui, chairman and founder of Chint Group.
Founded in 1984, Chint Group has seen its businesses expand over the years, from electrical equipment to power transmission and distribution equipment and services, instruments and meters, building appliances, photo-voltaic power generation and equipment manufacture.
In October, the company signed a comprehensive strategic cooperation agreement with Veolia, the world's largest environmental services provider, covering almost all of Chint's industrial chain across new energy, power transmission and distribution.
Chint's international business has seen explosive growth for a year, especially in the field of new energy.
For instance, Chint's solar components factory in Malaysia started mass production in January. It is the company's third components factory after those in China and Germany.
In March, Chint completed two PV power plant projects in Thailand. It also drew up a plan to build one more components factory in the country to expand its business.
So far, Chint has established factories, R&D centers and marketing branches in about 80 countries in Europe, North America, Russia, South America, the Middle East and the Asia-Pacific region. It constructed more than 30 overseas ground PV power plants, and sold its products to over 130 countries and regions.
Its PV business grew by 80 percent last year; its power electronics products sector in the North American market grew by 168 percent; and the domestic and overseas general contract business grew by 425 percent.
According to Nan, Chint's chairman, the company has benefited from its acquisition of Conergy, a German PV company. At the time, the latter was on the verge of bankruptcy. Chint acquired its components factory in 2014.
"We had a very efficient circulation network. We sold the products from our German factory to the Asian market. The factory runs well now," said Nan.
The acquisition provided a chance for the Nan-led Chint to introduce the German factory's management systems and automation production lines into its manufacturing bases in China, South Korea, Japan, India, the US, Spain, Thailand and Malaysia.
This helped to increase their production efficiency. "Now, six engineers can operate the whole process at one workshop, whereas just two years ago, we had to use dozens of workers to complete all work," said Lu Chuan, CEO of Chint New Energy, a subsidiary of Chint Group.
"We can even monitor the manufacturing process at factories in different countries from our headquarters."
To meet the needs of domestic and overseas markets, Chint Group funneled 3 to 10 percent of its sales revenues into R&D each year. In its high-end equipment sector, the R&D investment reached 50 percent of its sales revenues.
Last year, Chint launched China's largest PV power plant project, a 2 billion yuan ($294 million) 200-MW light project to complement local agriculture, at a mountainous area in rural Quzhou, Zhejiang province.