After shopping sprees abroad, it's time to really enjoy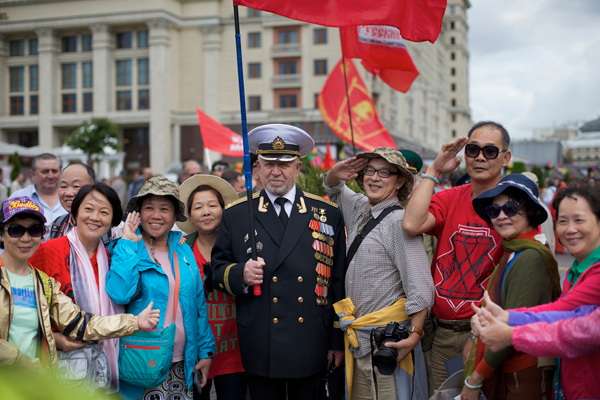 Chinese tourists pose for a photo with a former Soviet navy officer, during the 71st anniversary of the victory in World War II, in Moscow on Sept 2, 2016. [Photo / Agencies]
Recent yuan depreciation has not dampened Chinese tourists' enthusiasm for outbound trips, but has changed what they do abroad significantly. Now, instead of going on shopping sprees, they savor their leisurely hours.
Starting from the beginning of last year, the yuan has depreciated in four rounds by 10 percent till the end of October. Ratings agency Fitch expects that the Chinese currency will be allowed to depreciate gradually towards 7.2 yuan per dollar by 2018.
Ctrip, China's largest online travel agency, said it has seen no withering of interest in outbound trips so far, contrary to assumptions that they will be affected by a weakening currency.
It said most outbound trips are sold six months in advance. So, the yuan's depreciation will not affect travel in the short term.
According to the 2016 Annual Report for China Outbound Trip Development, jointly released by UnionPay International and the China Tourism Academy in September, the number of Chinese outbound travelers will increase by 11.5 percent this year to reach 133 million.
In addition, demand for overseas travel packages has been firm, Ctrip observed. As people's living standards improve, quality of life, aspirations and consumption patterns are also improving. Travel for recreation has become a trend.
More importantly, a weaker yuan might further change a Chinese traveler's consumption habits. Focus is shifting from shopping to the quality of trip and a chance to experience local lifestyles and culture.
Nowhere is this more evident than in Japan. There was a time when Chinese travelers would astonish the locals with bakugai or explosive buying during their shopping sprees.
Now, however, they are more inclined to try hot springs, Japanese cuisine and experience local culture.
Qiu Huizhen, manager of a Chinese traditional furniture and home decorations store in Shanghai, went on a trip to Kyoto in late October with six friends. Qiu invited two Japanese culture specialists to travel with the group, to explain all the nuanced details of local architecture and museums.
"The trip was really rewarding. We walked from one place to another in no hurry. I've learned a lot from the trip, which I think will be beneficial to my job," she said.
Even in London, where the depreciation of the pound has given a major boost to local tourism, Chinese travelers are showing greater interest in experiencing local culture. Seat reservations for musicals like Les Miserables and The Phantom of the Opera by Chinese tourists have surged by a staggering 2,200 percent.
Similarly, Russia is seeing influx of culture-minded Chinese tourists this year. According to Ctrip, the number of Chinese travelers buying its Russia travel packages is expected to rise by 50 to 60 percent. Mid- to high-end travel groups interested in nothing else but sightseeing are likely to be the majority of tourists.
Trips to watch the natural phenomena of aurora, or skies in magnificent hues of sunlight, have become another hit this year. As this year marks the end of an 11-year aurora cycle, Chinese travelers are going to every possible corner to experience, and capture images of awesome aurora.
Ctrip estimates the number of visitors booking aurora trips to north Europe and Canada may have grown by 400 percent this year. The number of visitors heading to Fairbanks in Alaska has also doubled.
Dai Bin, director of the China Tourism Academy, said the outbound travel market has gradually matured in China while local travel packages are the new blue ocean of the market.
"From hurried sightseeing during the early years, to busy shopping of the past few years, outbound trips have now grown into a new phase where people show more preference for leisure, recreation and life experiences. In the next five years, the Chinese outbound travel market will maintain a steady growth, while travelers will become more rational, paying more attention to life experiences at destinations," he said.