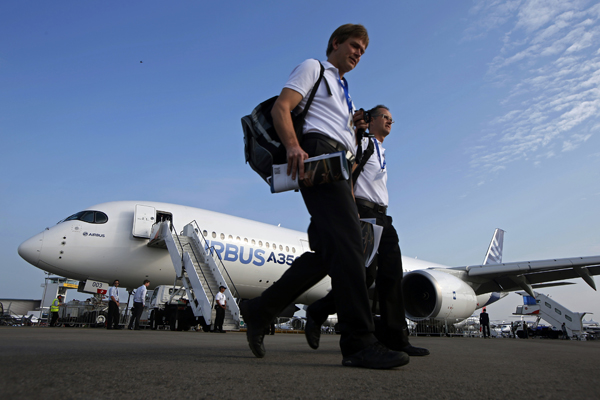 Visitors walk past an Airbus A350 on display at the Singapore Airshow. [Photo/Reuters]
European aircraft manufacturer Airbus Group SE said it expects to deliver its first A350 to Chinese airlines in the second half of next year and is bullish about the country's demand for widebody aircraft, fueled by fast-growing long-haul international routes markets.
An A350 test aircraft will start its China tour in November, with the debut in Haikou, Hainan province, then it will take static and flying displays at Zhuhai Airshow, before visiting Beijing, Shanghai, Guangzhou and Chengdu, the company said on Thursday.
Currently, more than 40 A350 aircraft are in operation internationally. China Eastern Airlines ordered 20 A350-900 aircraft in April. Air China ordered 10 A350-900s earlier. In September, Sichuan Airlines signed a letter of intent for leasing four A350-900s.
China's long-haul market has been surging as the number of direct international flights to and from China skyrocketed 150 percent in the last five years, mainly fueled by the growth of the middle class and relaxed visa policies.
From 2010 to 2015, the number of Chinese who traveled abroad jumped by an annual average of 16 percent, and 200 million individual Chinese are expected to travel overseas by 2020, according to the National Bureau of Statistics.
In the first half of 2016, Chinese airlines transported 25.2 million people on international routes, jumping 27 percent year-on-year, according to the Civil Aviation Administration of China
"China's booming growth of international flights, especially those long-haul routes, requires wide body aircraft to execute the flying. A350 is suitable for those airlines with complete international flights networks," said Eric Chen, Airbus China President and CEO.
Airbus said it expected that between 2014 and 2034, the air traffic in China will have an annual growth rate of 6.9 percent, mainly from air flow of domestic flights in China, and flights between China and the US, and China and Western Europe. Globally, the average growth rate will reach 4.6 percent.
Boeing Co said last month that it expects China's wide body fleet to triple in size over the next two decades.
"There is a rapid growth of international travel volume in China, with the traffic of some routes increased exponentially. The trend will continue, and the high amount of international travel is likely to drive the demand of wide body aircraft," said Li Xiaojin, a professor at Civil Aviation University of China in Tianjin.
The A350 has 280 to 366 seats and is the first Airbus aircraft with both fuselage and wing structures made primarily of carbon fiber.
Airbus' US archrival Boeing signed an agreement with China Southern Airlines on Wednesday for a dozen B787s, the competing jet for A350.
"We have firm confidence of the China market, and will continue to expand industrial cooperation with Chinese enterprises. Besides, we will collaborate with more Chinese interior cabin suppliers, and provide more opportunities for them to enter the world market," Chen said.
Airbus (Beijing) Engineering Center, a joint venture between Airbus and Aviation Industry Corp of China, participated in the design of the airframe of A350, and some 5 percent of the airframe is manufactured in Harbin, northeast China's Heilongjiang province.