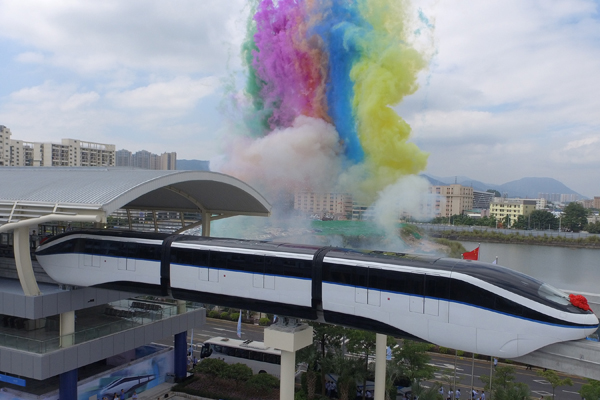 BYD's Skyrail starts operation on Oct 12,2016 in Shenzhen, Guangdong province. [Photo provided to China Daily]
Chinese electric vehicle manufacturer BYD is entering the railway transportation market, with the announcement of plans to build a monorail service in Shenzhen.
The "Skyrail" will take around two years to build, one-third of the time taken to build the average metro system, and will cost around 20 percent of the latter, according to the company.
With an investment of 5 billion yuan ($757 million) in five years, BYD aims to solve the traffic jam problem in crowded cities caused by population increase.
At the ceremony, BYD Chairman Wang Chuanfu said the city of Shantou in Guangdong province had signed contract with BYD to build a 250-kilometer-long Skyrail system and another 20 cities are in negotiations to introduce the new transportation system.
"Skyrail could integrate with current public transportation system in a bid to establish a multi-dimensional network linking space underground, on the ground and in the air," Wang said.
It can run as fast as 80 km per hour and its delivery capacity is about 10,000 to 30,000 passengers one way each hour.
After the 4.4-km Skyrail started operations in BYD's Shenzhen campus, railway transportation officially becomes the company's fourth core business after IT, automobile and new energy.
Wang said BYD is determined to be the first private company in China to enter railway transportation industry.
On Oct 11, Wang also signed a contract worth 60 billion yuan with China Development Bank about a strategic cooperation on the monorail system industry.
Peng Qi, automobile industry analyst of research center at China Merchants Securities, pointed out the development of the Skyrail depends on how many orders it could successfully get and that needs to be negotiated with local governments.
He said he believes the new system is suitable for third and fourth-tier cities, as well as linking suburbs and downtown in first-tier cities, but he is afraid smaller cities could not afford the cost.
The advantage of BYD's Skyrail is its low cost, he added.
He compares the Skyrail to an aerial electronic bus, saying BYD has a comprehensive resources of manufacturing electronic bus, including electronic motors, battery and electronic control, so the company only needs to outsource track manufacturing.