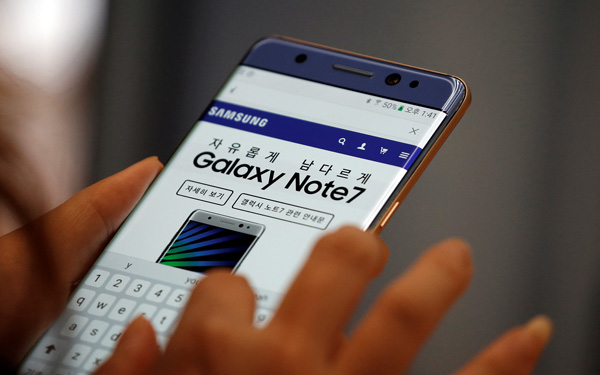 A visitor tries out a Samsung Electronics' Galaxy Note 7 at company's headquarters in Seoul, South Korea, October 5, 2016. [Photo/Agencies]
FedEx Corp and United Parcel Service Inc, two major delivery services in the US, added guidelines for returning Samsung Electronics Co's fire-prone Galaxy Note 7 smartphones to the manufacturer through their networks.
First, they will only take devices that have been packed into special boxes equipped to handle shipments of faulty lithium-ion batteries and returns will be handled by ground-shipping only. Neither FedEx nor UPS will move any of the devices via planes, hewing to guidelines set out by federal regulators prohibiting air shipments for recalled lithium battery products-even for phones that aren't covered by the existing recall. The restrictions fall short of the outright ban instituted by the UK's main postal service.
"With Samsung discontinuing sales of its replacement Galaxy Note 7, FedEx has taken additional steps to ensure our priority on safety," Jim McCluskey, a FedEx spokesman, said in a statement on Wednesday. "FedEx Express is no longer accepting any Galaxy Note 7 devices, including those from authorized distributors."
FedEx Express, the air shipment unit, is the world's largest cargo airline. The shipping company's FedEx Ground division, which transports packages in North America primarily by truck, will accept new or used Note 7 devices, but only from mobile phone retail locations in the contiguous 48 states.
Note 7 owners must wait to receive packaging that meets regulatory guidelines before either FedEx or UPS will take them. Samsung and Verizon Communications Inc said they're providing customers in the US with these fireproof prepaid delivery packages, which the US Department of Transportation has approved.
Even then, FedEx Ground won't accept phones from individual customers or from any other type of store, including those with FedEx counters or drop boxes.
Customers can also return the phones in person to their wireless carrier.
The UK's Royal Mail Plc said earlier it would ban Note 7 shipments entirely. Customers sending packages through the mail or via Royal Mail's Parcelforce courier service will be asked to detail what's inside, to prevent faulty products from slipping into delivery vans, the London-based mail carrier said in an emailed statement.