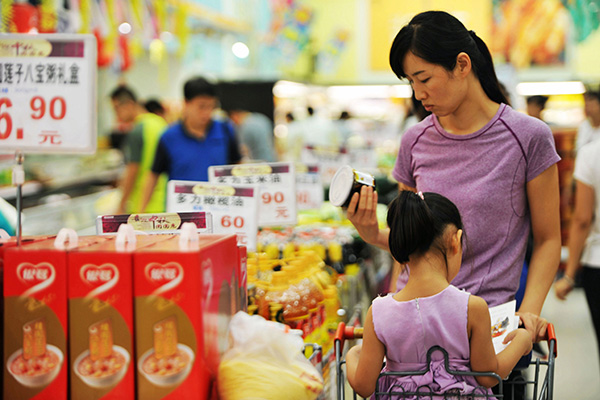 A woman chooses canned food at a supermarket in Qingdao, Shandong province, on Sep 9, 2016.[Photo/For China Daily]
BEIJING - China's consumer price index (CPI), a main gauge of inflation, grew 1.9 percent year on year in September, up from August's 1.3 percent, the National Bureau of Statistics announced Friday.
The September data dropped for the fifth-consecutive month from 2.3 percent in April, when the CPI reached its highest level since July 2014.
On a month-on-month basis, the CPI rose 0.7 percent in September.
NBS statistician Yu Qiumei attributed the moderated growth of inflation in September largely to rising food prices.
The price of vegetables and fruit rose 7.5 percent and 6.7 percent, respectively, year on year in September, compared with 3.9-percent and 0.6-percent drop registered in August.
In addition, the price of services also increased in September, with education services price rising 3.2 percent year on year, compared with 2.2-percent rise in August.
Since January 2016, CPI has been calculated using a new comparison base and included more products and services, while slightly reducing the weighting of food.
China's producer price index (PPI), which measures costs for goods at the factory gate, increased 0.1 percent year on year in September. 
Related reading
Consumer inflation still falling in August by Xin Zhiming, China Daily
Growth in China's consumer price index weakened for the fourth consecutive month in August to indicate the lowest inflation rate in almost a year, which analysts said leaves room for China to loosen its monetary policy to stabilize economic growth.
The CPI rose by 1.3 percent year-on-year, which is the lowest rise since October and down from 1.8 percent in July. The slackening growth can be attributed to falling food prices, the National Bureau of Statistics said in a statement on Friday.
In August, pork prices rose by 6.4 percent year-on-year, compared with 16.1 percent in July, and egg prices fell by 7.4 percent in August, compared with 2 percent in the previous month.
"It could be the lowest (monthly) reading this year," said Liu Dongliang, an analyst at China Merchants Bank. "The CPI rises in the first half of the year once triggered market concerns, but they had been caused by abnormal weather conditions and (cyclical) pork price rises, which are short-term factors that cannot change the overall weak market demand."
Lian Ping, chief economist at Bank of Communications, said no major spikes in consumer inflation are expected in the coming months, although the index may show year-on-year increases in October and November due to the relatively low basis a year earlier.
China's window to further relax its monetary policy has not closed and the possibility of the relaxation remains high in the rest of this year, said Liu of China Merchants Bank.
The movement of the producer price index will have a major bearing on whether the monetary policy will be relaxed, he said.
The NBS said on Friday that the PPI, a gauge of factory-gate prices that indicates the rate of economic activity, dropped by 0.8 percent year-on-year in August, compared with 1.7 percent in July.
The slowing of the decline indicates that the economy could be steadying, analysts said.
"It is a sign of improving industrial production," Liu said.
China's factory-gate prices have been falling since March 2012, but analysts said that as the industrial sector improves on the back of the housing recovery and rising commodity prices, it could climb into positive territory in the fourth quarter, limiting the full-year PPI decline to 2 percent, Nomura Securities said in a research note.
The slowing decline in PPI could reduce the possibility of relaxing monetary policies, but given the restrictive policies targeting the real estate sector and the expected modest fiscal expenditures in the coming months, which will drag on real estate and infrastructure activities, China will still face heavy downward pressure, Liu said.
An expected interest rate hike by the US Federal Reserve would cause capital outflows, which would also raise the possibility of loosening monetary policy in China, he said.