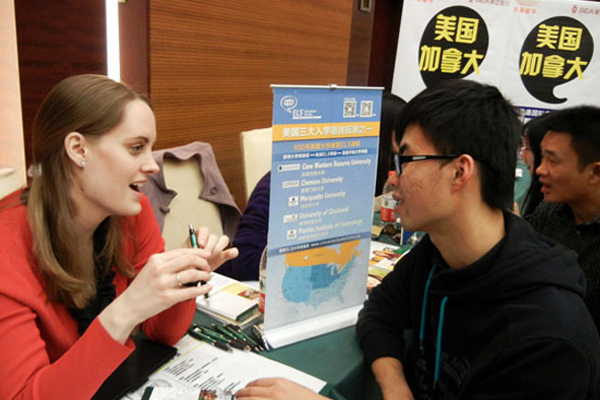 A Chinese student consult an educational agent at an international educational fair in Suzhou on Mar 22, 2014. [Photo/IC]
More than half of companies in a survey said they favor Chinese students returning from overseas over their domestically educated peers.
Multinationals and private companies, particularly startups founded by people who themselves were students overseas, are more likely to offer better benefits to returned students, compared with what is offered to those who graduated from domestic universities, according to the 2016 Employment Report on Chinese Students Returning from Overseas.
It found that 82.5 percent of employers were willing to offer preferential benefits, such as better posts and higher starting salaries, to returned students.
The report was released by Beijing think tank Center for China & Globalization and Haiwei Career, a company under the New Oriental Education & Technology Group that focuses on the employment of Chinese students who have returned from overseas.
The survey lasted from April to June and polled more than 1,000 returned students.
Yu Zhongqiu, president of Haiwei Career, said that in the 21st century, where English, computer skills and driving are deemed as "three musts", overseas experience will help job hunters stand out.
"Studying overseas is still believed to be a worthy choice because it gives students some comparative advantages in the job market," he said.
However, such advantages are shrinking and becoming less obvious as the number of Chinese studying overseas has soared in recent years.
Statistics released by the Ministry of Education showed that during the past decade, the ratio of Chinese who went abroad and those who came back dropped from 3.15-to-1 in 2006 to 1.28-to-1 last year, meaning more people choose to return after their studies.
As a result, many returned students may notice that it has become increasingly difficult for them to find good-paying jobs that suit them.
The report showed that more than 80 percent of those who returned eventually landed a job that is not connected with their major. One-fourth had a starting monthly salary of only 5,000 yuan ($740) and only one in three expressed contentment with their job.
Some enterprises, including Alibaba Group, even announced that they will not treat overseas graduates differently.
Lin Guoyu, CEO of College Daily, a media platform providing practical information for Chinese students who are studying or want to study in North America, said China has entered an era in which studying abroad is no longer rare. Students should be fully prepared for the cold shoulder they may encounter after coming back.
Under such circumstances, Haiwei president Yu strongly suggested that this group of students make better plans about studies before heading overseas and receive professional guidance on employment after returning to China.