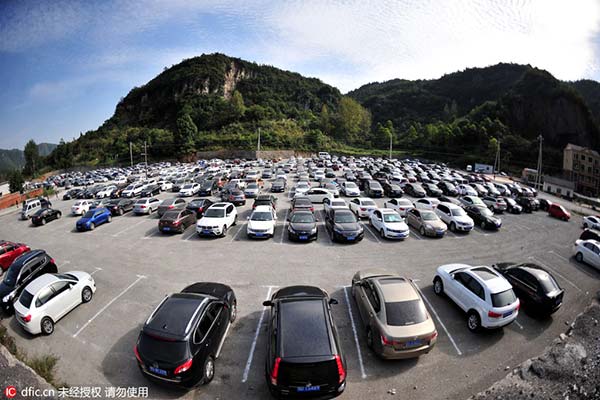 Cars are seen at a parking lot of a scenic spot in Yichang, Hubei province, Oct 2, 2015.[Photo/IC] 
Driving for sightseeing, once marginal in the tourism industry, is coming in vogue and stimulating the car rental business in China.
According to the latest report, more than 40 percent of airline and train tourists want to rent cars for tours after their arrivals. Ctrip.com International Ltd, one of the leading online travel service providers, released its new car rental report on Wednesday.
It said its domestic car rental business has enjoyed stellar growth rate of 150 percent year-on-year. According to the report, Dali and Lijiang in Yunnan province and Guiyang in Guizhou province are the three fastest-growing tourism destinations, with a year-on-year growth rate almost reaching 200 percent.
By the end of 2015, there were 320 million holders of driving licenses in China. As a new way of traveling, self-driving is welcomed by the younger generation of tourists.
According to the China National Tourism Administration, in 2015 more than 4 billion visits by Chinese travelers were made within the country, and more than 3.2 billion of those trips were tourists traveling on their own, among them those who took road trips with their own cars.
A report by international consultants Roland Berger said in the next five years, visits by self-driving tourists will enjoy an average annual growth rate of 16 percent.
Of the tourists who rent cars for tour, about two-fifths are from Shanghai and Beijing, Ctrip found. It said that Shenzhen and Guangzhou in Guangdong province, Chengdu in Sichuan province and Hangzhou in Zhejiang province also had potential of further development in the self-driving tourist trend.
Xu Xiaolei, a spokesman for China Youth Travel Service Co, said self-driving tourism had triggered travel agencies to develop new business.
"Travel agencies are good at providing package services including travel routes, transportation and hotel bookings, as well as providing tour guides," Xu said.
"With more and more tourists booking tailored services, we have been deploying car rental services in areas covering vast territory and in areas with a limited public transportation network," Xu added.
"Car rental business for tourists have great potential, not only in China but also overseas. I think car rental is more essential for tourists. Take the western United States for an example, tourists would not enjoy the tour if they didn't rent a car."