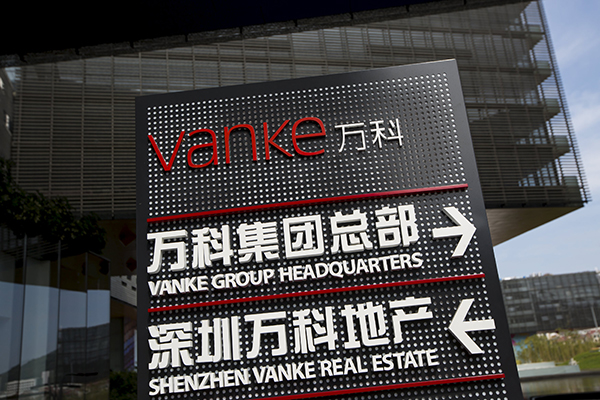 Signs show the direction of Vanke group headquarters and Shenzhen Vanke Real Estate at its headquarters in Shenzhen, south China's Guangdong province, Nov 2, 2015. [Photo/Agencies]
BEIJING - A prolonged tussle over control of China's largest home builder has triggered a plunge in the company's stock price and calls for better market regulation.
Shares of China Vanke, a Shenzhen-listed property developer, tumbled by the daily limit of 10 percent as trading resumed on Monday following more than six months of suspension.
The company suspended trading in December 2015 after the privately-owned Baoneng Group quietly bought enough shares to become its largest holder.
Vanke chairman Wang Shi openly opposed the acquisition, calling Baoneng "barbarians" and expressing concerns over its credit score. Baoneng insisted that it had always abided by the law and had a good reputation.
The turf war between shareholders and management escalated last month, when Vanke announced an asset restructuring plan worth 45.6 billion yuan (6.9 billion U.S. dollars) with Shenzhen Metro Group that would make the subway operator overtake Baoneng to become the biggest shareholder.
In response, Baoneng proposed ejecting Vanke's senior management team, including Wang Shi, who is also founder of the company. But the proposal was voted down by the board on Friday.
The restructuring plan also drew opposition from Vanke's original largest holder, state-owned conglomerate China Resources, which is worried the deal would dilute its shares.
It remains unclear whether the restructuring can be successfully completed and who will end up in control of Vanke.
The power struggle has clearly unnerved investors, with an online poll on Sina.com showing 87.5 percent of those surveyed expect more share price slumps as steep as Monday's fall.
It has also sparked heated debate in a market where public takeover battles are rare, let alone such a high-profile fight over one of China's best known enterprises.
Economists and legal academics want all parties to bury the hatchet and negotiate a solution to avoid damage to the company and investors. Meanwhile, they point to imperfections in laws and regulations covering hostile takeovers and corporate governance.
The fight has already taken a toll on Vanke, with some project contracts facing the risk of being canceled and banks becoming cautious over the company's credit rating, Vanke president Yu Liang told a shareholders' meeting last week.
Under the current legal framework, listed firms in China have limited ways to defend themselves once they become targets of hostile takeovers, said Shi Tiantao, a law professor at Tsinghua University.
For example, shareholder rights plans devised to make the company's shares undesirable to acquirers, known as "poison pills," are common tactics used in countries including the United States but can not be easily adopted by Chinese firms, Shi said.
As a result, companies like Vanke have few options other than trading suspension to avoid from being taken over, but this method hurts the interests of investors as it prevents them from selling off shares to avert risks.
Wang Jun, an associate professor with China University of Political Science and Law, urged tougher scrutiny over leveraged buying of listed companies' shares to fend off financial risks.
"An acquiring firm can use funds raised at a leverage ratio as high as over 20 times to complete the purchase... the buyer should be required to disclose more information about the risk," said Wang.
Baoneng, a Shenzhen-based conglomerate with real estate and finance businesses, borrowed heavily to buy over 24 percent of Vanke's shares.
Zhou Qiren, a prominent economist with the National School of Development (NSD) at Peking University, called on market regulators to make public where Baoneng's funds come from and evaluate their risks.
"It is vital to all parties concerned and the stability of financial markets," Zhou said.
Other academics asked authorities to refrain from intervening in the row, saying it should be left in the hands of market forces.
"So far, the government has shown restraint [over the issue], which is very valuable," said Yao Yang, head of the NSD. "In this way, there will be room for the market to decide."
A spokesperson for the China Securities Regulatory Commission, the country's stock market watchdog, said on Friday that the commission has been "paying attention" to the issue, urging all parties to resolve the issue "within the corporate governance framework" in line with laws and regulations.