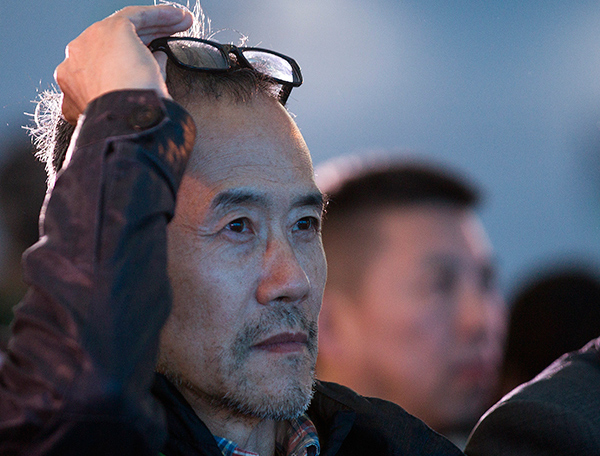 Wang Shi, chairman of China Vanke Co, at a World Water Day Forum in Guangzhou, capital of Guangdong province. [Photo provided to China Daily]
The A shares of China Vanke Co Ltd, the country's biggest residential property developer, fell by the daily limit to 21.99 yuan ($3.31) at opening on Monday, after a months-long trading suspension.
Vanke announced it would suspend trading of its A shares on December 18 last year after Shenzhen-based financial conglomerate Baoneng Group's stake aggregated to 24.29 per cent, making it the largest shareholder of the company.
In announcing the trading halt, Vanke said it was planning to issue new shares for capital restructuring and assets acquisition, a move regarded as a way to resist Baoneng's control over the company.
In the following week, Vanke managed to win support from insurer Anbang Insurance Group Co, which raised its stake in Vanke to 7.01 per cent.
On March 13 this year, Vanke announced it had signed a preliminary agreement with subway operator Shenzhen Metro Group to acquire up to 60 billion yuan of property assets atop its subway lines.
On June 17, the company held a board meeting to vote on the plan to acquire a 100-percent equity interest in Qianhai International, held by Shenzhen Metro, by issuance of new shares, with the consideration preliminarily estimated at 45.61 billion yuan.
Vanke's second-largest shareholder, China Resources Co Ltd, opposed the move as it would significantly dilute its shareholding.
On June 26, Shenzhen Jushenghua Co Ltd and Foresea Life Insurance Co Ltd, units of Vanke's largest shareholder Baoneng Group, requested to hold an extraordinary general meeting to oust all 12 of Vanke's directors, including chairman Wang Shi.
China Resources, on June 30, said it had a different opinion on the proposal to oust the property developer's board and would restructure the board of directors and supervisors. It also responded to Shenzhen Stock Exchange's inquiry that it had not reached any agreement with Baoneng on voting.
Baoneng responded to the Shenzhen Stock Exchange's inquiry the same day that it put forward the ouster proposal to solve the problem of chaotic governance in the company, as well as give all shareholders an opportunity to nominate its directors and supervisors.
In a statement filed to the Shenzhen Stock Exchange on Saturday, Vanke said it would resume A-share trading on July 4 and that it planned to acquire an 100 per cent stake in the Shenzhen Metro Group's Qianhai International for 45.6 billion yuan, via a new share issue. Shenzhen Metro will account for 20.65 per cent of China Vanke's total shares, according to the plan.
In the latest statement released on Monday, Vanke said its board held a meeting on July 1, which vetoed the proposal to hold an extraordinary general meeting to dismiss all its directors.