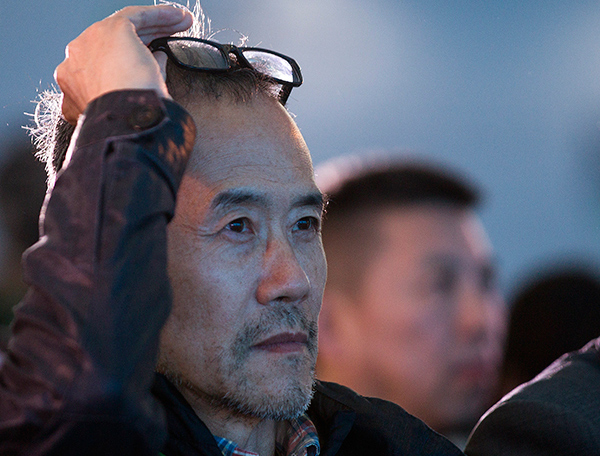 Wang Shi, chairman of China Vanke Co, at a World Water Day Forum in Guangzhou, capital of Guangdong province. [Photo provided to China Daily]
The share price of China Vanke Co Ltd, the country's largest residential developer, will likely rebound after a technical correction given its strong business performance this year, analysts said on Monday.
The mainland-listed shares of Vanke tumbled by the 10 percent daily limit when trading was resumed on Monday after a six-month suspension.
The decline came after the battle for the control of the developer, among its major shareholders intensified as private insurer Baoneng Group, the largest shareholder of Vanke, threatened to remove all of its board members.
Property analysts said that Vanke has delivered an "extraordinary performance" in the past six months, which will not justify any prolonged share price decline.
However, Vanke's A shares are likely to decline further by about 20 to 30 percent before it stabilizes, Xia Lei, a property analyst at Founder Securities Co, said.
Global credit rating agency Moody's Investors Service maintained China Vanke's Baa1 issuer rating which it said reflects the developer's strong track record in property sales execution and its position as a leading developer in China in terms of scale and brand value.
The confrontation between Vanke's major shareholders and its management team has escalated after its largest shareholder Baoneng and second-largest shareholder China Resources (Holdings) Co Ltd, a State-owned conglomerate, strongly opposed a restructuring plan worth $6.9 billion with Shenzhen Metro Group.
If successful, the deal will dilute Baoneng and China Resources' stockholdings in Vanke and make Shenzhen Metro the biggest shareholder with a 20.26 percent stake.
Baoneng even proposed removing all board members of Vanke last week, but the plan failed to win support from China Resources.
Kaven Tsang, a Moody's vice-president and senior credit officer, said in a research note that the proposed removal of the company's senior management team, if it materializes, will be credit negative for the developer as it interrupts the company's normal business operations, property sales and its access to funding.