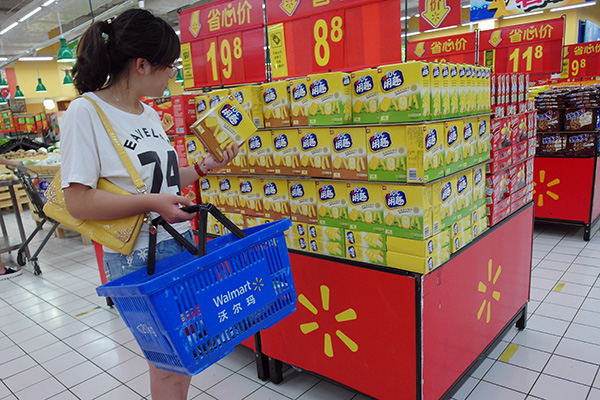 A woman examines goods on sale at an outlet of Wal-Mart Inc in Yichang, Hubei province. [Photo/China Daily]
Wal-Mart Stores Inc is selling its e-commerce operation in China to JD.com Inc in exchange for the Chinese e-commerce major's five percent stake.
Under the agreement, JD.com, which is the biggest rival of Alibaba Group, will take ownership of Wal-Mart's Yihaodian online marketplace and two companies will from a strategic partnership to further boost their businesses.
The Chinese branch of Sam's Club also will open a store on JD.com, according to JD's statement released on Monday.
The two companies will link up their supply chains as part of the deal to form a strategic partnership. Wal-Mart's customers in China can enjoy JD.com's delivery service and JD.com's online shoppers can get access to War-Mart's pool of imported food and beverage.
The share price of JD.com jumped 4.62 percent on Monday trading and closed at $21.06.
JD.com "has a very complementary business and is an ideal partner that will help us offer compelling new experiences that can reach significantly more customers," Wal-Mart CEO Doug McMillon said in Monday's statement. "We also look forward to offering customers a tremendous number of quality imported products not previously widely available in China through Wal-Mart and Sam's Club."
JD.com CEO Richard Liu said: "We look forward to further developing Yihaodian, which has tremendous strength in important regions of eastern and southern China."