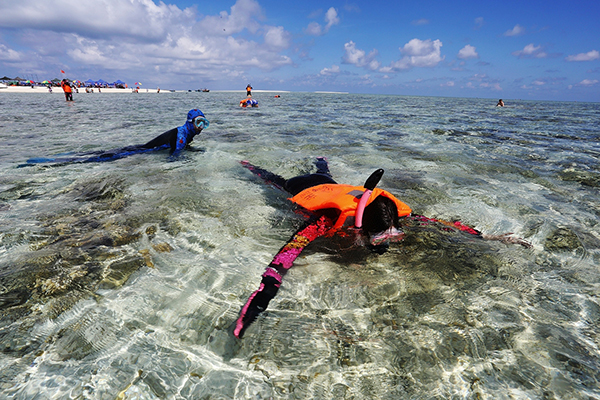 Tourists at the Xisha Islands, Hainan province. [Photo/Xinhua]

COSCO competes with Hainan Strait Shipping to build cruise business
China COSCO Shipping Corp, which owns the world's largest fleet of specialized carriers and multipurpose vessels, plans to launch cruise lines in the South China Sea next month.
The first route is expected to travel from Sanya to the Yongle Island, part of the Xisha Islands in Hainan province.
"It is practical to stimulate the local economy through development of tourism, logistics and infrastructure facilities," Xu Lirong, chairman of COSCO Shipping, said over the weekend at the Boao Forum for Entrepreneurs in Boao, Hainan province.
China COSCO Shipping signed a contract with China National Travel Service (HK) Group Corp and China Communications Construction Co Ltd in late April, to jointly establish a cruise company to offer tourism services in the South China Sea.
They will share resources and management expertise to provide cruise services to major islands of the Xisha. They will also work together in areas such as operating multimodal transportation, cruise ships, wharves and ports, storage and logistics.
Under the framework, the cruises will be managed by Dalian-based COSCO Shipping Ferry Co Ltd.
The COSCO Shipping subsidiary, however, does have a competitor on this route. Hainan Strait Shipping Co Ltd has been operating cruise services between Sanya and the Xisha Islands for more than two years. The Haikou-based ferry company operated 48 voyages carrying 8,430 people to the Xisha Islands.
Dong Liwan, a professor at Shanghai Maritime University, said that even though shipping, tourism and construction companies are enthusiastic about developing the cruise market in the South China Sea, they must be aware that it still takes time and resources to improve service and logistics facilities in those islands.