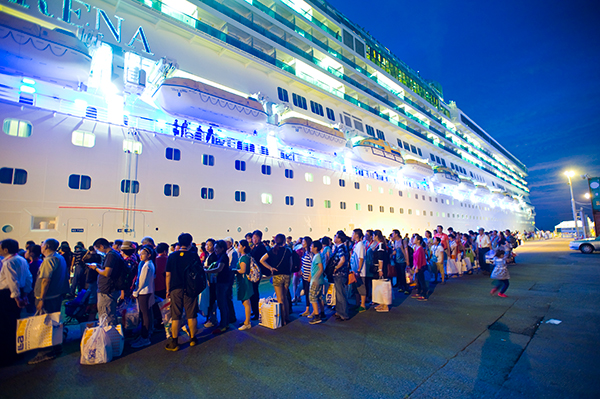 Chinese tourists wait for boarding a cruise liner after their shopping at Fukuoka, Japan. [Lou Dinghe/For China Daily]
When domestic shipbuilders are struggling to make ends meet due to industry downturn, Waigaoqiao Shipbuilding Co Ltd has decided to build China's first luxury cruise liner. In doing so, it has announced itself on the global cruise market.
China CSSC Holdings Ltd, a listed arm of China State Shipbuilding Corp, said in a statement on April 16 that its subsidiary Waigaoqiao Shipbuilding is about to set up a cruise liner development company in Shanghai along with Guangzhou Shipyard International Co Ltd and two ship design institutes.
The new company will undertake research, design and development of cruise liners and related facilities, it said.
The joint venture will be registered in China (Shanghai) Pilot Free Trade Zone in Pudong New Area, the 21st Century Business Herald reported.
Construction of the first cruise ship will kick off in 2017, and will be delivered by 2021, according to Chen Gang, vice-president of Waigaoqiao Shipbuilding.
The company's new foray follows the rapid expansion of the global cruise market.
It is an industry currently dominated by the world's leading shipyards in Italy, Germany and France. But their limited supply has been unable to meet the global market's demand.
Chinese cruise lovers reached 1.11 million in 2015, up 50 percent year-on-year. Last year was the first time their number surpassed the 1-million mark, according to the 2015 China Cruise Industry Development Report.
As many as 4.5 million Chinese will go on cruises by 2020, meaning 40 cruise ships will homeport in China, said Wu Zhenglian, a cruise design expert from a research institute under CSSC.
Some 200 large-sized cruise ships are in operation across the world now. Shipyards can produce only eight such new vessels every year whereas the demand is for 13.
The gap may prove an opportunity for domestic shipbuilders that are now facing declining orders and fierce price wars in the highly competitive low-end market of bulk and oil tankers, according to industry experts.
Chinese shipbuilders received 31.26 million deadweight tonnage new orders in 2015, down 47.9 percent from the previous year, according to data from the Ministry of Industry and Information Technology.
From January to March, Chinese shipyards completed orders of 8.35 million DWT, down 11.8 percent year-on-year. The new ship contracts totaled 7.42 million DWT, up 23.9 percent from the previous year. Orders on the book also dropped 17 percent to 120 million DWT.
Ship owners, port enterprises and shipping service enterprises are all deteriorating in terms of performance, according to the latest Chinese Shipping Prosperity Report.
The Chinese Shipping Prosperity Index, which was introduced in 2009, hit a new low of 77.96 points in the stagnant interval of the first quarter of 2016, said the Shanghai International Shipping Institute in a report. Meanwhile, the Chinese Shipping Confidence Index registered 49.42 points, remaining in contraction since the third quarter of 2011.
"As a leading shipbuilding nation in the past few years, in terms of ship completion, new ship orders received and ship orders on the book, China's major shipyards do have sufficient hardware and capability to transition from building traditional ships to building cruise liners," said Wu.
Building cruise ships calls for a different kind of craftsmanship that requires focus on quality rather than quantity. This is also in line with China's goal to turn itself from a large shipbuilding nation into a great shipbuilding country, said Wu.
"I am sure there are quite a few Chinese shipbuilders that want to build cruise ships, but they should think twice before taking the plunge, because China's cruise shipbuilding industry is yet to be formed, and the global standards and requirements for building the vessels are very high," said Chen.
A cruise ship is the result of the assembly of many technologies. Up to 75 percent of the value of a cruise is handled by subcontractors. Creation of this network of competencies takes several decades, and it requires a continuity of work, according to Maurizio Cergol, a naval architect and cruise vessel designer from Fincantieri.
Innovation is key to the cruise business. Safety, environmental sustainability and energy-efficient green technologies are also important, said Cergol.
"The building of cruise ships by Chinese shipyards would be a great challenge, especially as their European peers have sophisticated experience, and the counterparts in Japan and South Korea have made trials that were not quite successful," said an insider from a top Chinese shipbuilder.
The building of China's first luxury cruise liner will entail an investment of several billion yuan. Losses could be possible, the 21st Century Business Herald reported an unnamed source from CSSC as saying.
"I don't agree with such an opinion because it exaggerates the difficulties. Since the construction of China's first luxury cruise ship is a national-level project, work will surely be well planned with the best inputs of resources and talents," said Wu.