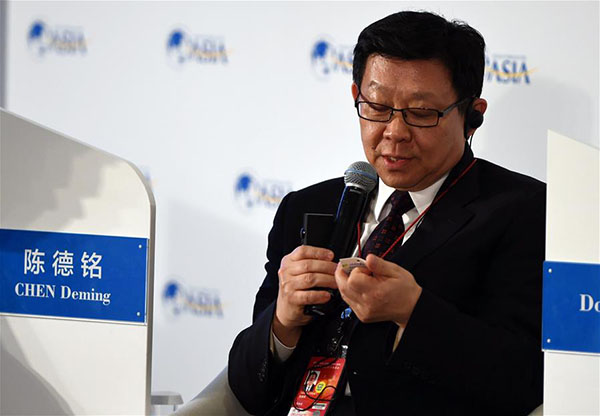 Chinese former Minister of Commerce Chen Deming speaks at the session "China-US Bilateral Investment Treaty: Where Are We Now" during the Boao Forum for Asia (BFA) Annual Conference 2016 in Boao, South China's Hainan province, March 23, 2016. [Photo / Xinhua]
BOAO - Talks over the China-US bilateral investment treaty (BIT) are near completion with most key issues resolved, former Chinese Minister of Commerce Chen Deming said Wednesday.
Both sides have agreed in principle to take disputes between host country and investors to third party arbitration at the World Bank, Chen told the Boao Forum for Asia in Hainan province.
Investment is a factor behind the weak global economy as thousands of contradictory multi-lateral, regional and bilateral treaties lead to confusion, he added.
The treaty is vital for free and easy investment is a key aspect of economic vitality, Chen said. The BIT will help Chinese companies invest overseas and fit better in the global value chain, he added.
A total of 24 rounds of talks have been held since negotiations started in 2008.