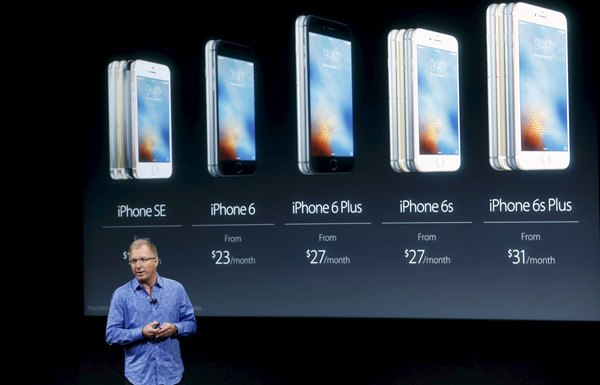 Apple Vice President Greg Joswiak introduces the iPhone SE during an event at the Apple headquarters in Cupertino, California March 21, 2016.[Photo/Agencies]
As always, a buzzworthy product launched by Apple on Tuesday has aroused the interest and attention of the people in China.
The new iPhone SE, which is equipped with a 4-inch display and retails at prices starting from 3,288 yuan ($507) in the Chinese mainland, is essentially a smaller version of one of the company's existing flagships -- iPhone 6s.
Heated discussions online are focused on whether the sales performance will favor Apple's market share in the 3,000 to 4,000 yuan price level, and whether it can compete with domestic brands that have seen rapid progress in technology improvements and quality control.
Analysis firm Counterpoint Technology Market Research said in a report that Apple sold about 30 million units of its older 4-inch iPhones in 2015, accounting for about 13 percent of the company's entire handset sales last year, according to a China Daily report.
"Though the majority of consumers prefer large-screen smartphones, there is always a demand for smaller-screen gadgets. This is a profitable segment that Apple can't ignore, especially when its growth begins to slow down," James Yan, research director at Counterpoint Technology Market Research, said. "But I don't think iPhone SE will be pretty popular in China because consumers here regard smartphones as an important tool for entertainment where large-screen displays are preferred."
Although analysts debate on potencial iPhone SE sales performance, according to US tech site recode.net, given that iPhone SE has some of the company's latest technology features at more affordable price, emerging markets such as China and India could see huge demand.
"Although the iPhone SE doesn't get Apple into the sub-$200 market, a lower-cost option gives wealthier folks in these countries an alternative to going with a refurbished or older model," said the site.
"I'd expect a far higher percentage of those who have stuck with older phones to go with the iPhone SE rather than a 6 or 6s than last year, both because these people are likely to prefer to stick with smaller phones and spend less, and clearly don't care about having the top of the line device," according to recode.net, citing Jackdaw Research analyst Jan Dawson.
According to statistics released by Apple Inc, iPhone 5s, the previous 4-inch screen smartphone launched two years ago has been sold more than 30 million units so far and by 2015, 13.2 percent of the total sales volume came from iPhone 5s.
Taking Chinese market as a specific example, although the market is likely to be recognized as the "large-screen loving" market, according to 21st Century Business Herald newspaper, Gartner analyst Lv Junkuan said that the sales volume of iPhone 5s ranked 20 percent of Apple's entire sales number in China last year.
"The total number of iPhone sold in the Great China Region reached to about 50 million units last year, while among the figure, one fifth were contributed by iPhone 5s," said Lv.
According to Apple analysis company Above Avalon, the existing 4-inch display iOS users are 170 million.
Statistics from China Mobile, one of three largest mobile carriers in China, shows that by comparing the 44 million iPhone 6 users and 11.66 million iPhone 6s users, the number of iPhone 5s user has reached to 24.6 million so far.
"The existing iPhone 5s users are a group of people that prefer the design of small-sized display while the systems running on their phones lag upgrading due to the limitations of the hardware," said Lv. "iPhone SE has just popped up and fed the demand of the customers for an upgraded phone."