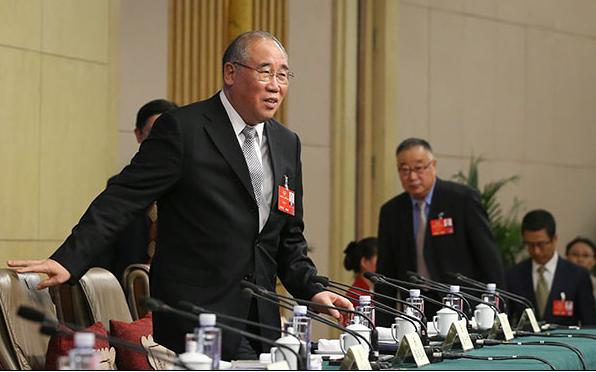 Xie Zhenhua, China's special representative on climate change, takes his seat at a news conference on the sidelines of the two sessions, March 7, 2016. KUANG LINHUA/CHINA DAILY
Policies undertaken by the Chinese government have had remarkable effect on industrial restructuring, enhancing energy efficiency and reducing carbon emission, and the carbon dioxide emission will peak sooner than planned, Xie Zhenhua, the country's special representative on climate change, said
at the Boao forum
on Wednesday.
China is committed to reducing carbon intensity by 40-45 percent by 2020, but Xie said the real figure will be 49 percent, and non-fossil fuels is expected to account for 15 percent of China's primary energy mix, compared with 12 percent at the end 2015.
At the Paris climate conference (COP21) in December 2015, 195 countries adopted a global climate deal. The agreement set out a global action plan to put the world on track to avoid dangerous climate change by limiting global warming to well below 2°C.
The implementation of the Paris climate change agreement will be a long and tough process, Xie said. However, each country should realize that the low carbon development will not become a burden in the face of economic downward pressure. Green and low carbon will bring opportunity to drive economic growth.
By 2030, infrastructure investment is expected to be $90 trillion. If these infrastructure projects can be constructed in low carbon way, together with the development and utilization of new energy, we can see a broad prospect for low carbon development.