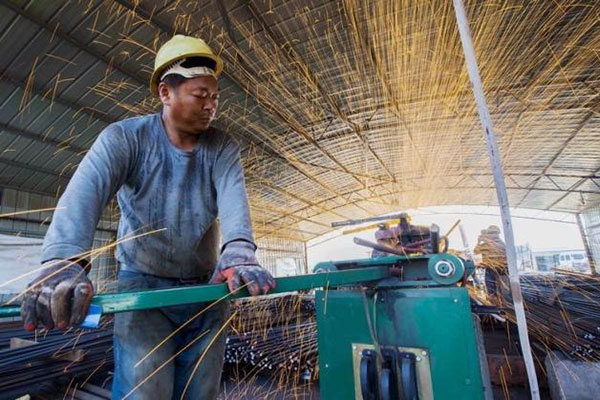 A labourer cuts steel bars at a railway bridge construction site in Lianyungang, Jiangsu province, September 12, 2015.[Photo/Agencies]
BOAO - Attendees of the Boao Forum for Asia (BFA) agreed that supply-side structural reform will help China overcome its economic difficulties and propel regional growth.
Under the theme "Asia's New Future: New Dynamics and New Vision," this year's four-day forum in south China's Hainan province offers an opportunity to better understand China's pursuit of supply-side reform, which has been high on agenda for government work.
"Including it as a priority in the 13th Five-Year Plan for the 2016-2020 period shows the central government's determination to adjust to a situation where the demand side is no longer a solution for a fast growth rate," said Zhang Shuyu, a researcher with the University of International Business and Economics.
China's three decades of rapid growth were fueled by capital investment and exports -- the demand side. Supply-side reform, on the other hand, aims to increase the supply of high-end products and services by stimulating business through tax cuts, entrepreneurship and innovation.
"Supply-side reform is the realistic choice for China, following a thorough assessment of the current global and domestic situation," said Chen Changsheng, an official with the Development Research Center of the State Council.
Edmund Phelps, the Nobel Prize laureate of economics in 2006, who is attending the BFA, said only endogenous innovation from enterprises facilitated by the supply-side reform will support China's long-term, sustainable and healthy development.
Increased investment by enterprises into innovations is possible because taxes have been slashed. By May, VAT reform will be implemented in all industries. This is estimated to help enterprises save more than 500 billion yuan ($76.9 billion) this year.
International companies are adapting well to the latest change in China's development philosophy too.
"Structural reform on the supply front requires a change of mindset -- we must now focus on the actual demands from customers. Instead of blind expansion, we believe innovative products based on research and future-oriented investment will ensure future success." E. Allan Gabor, president of the Asia Pacific region for Merck Biopharma, told Xinhua at Boao.
China is one of the biggest markets for most of Merck's products. The rising middle class offer more opportunities for Merck, Gabor said.
He further noted that China, as the largest market for goods such as automobiles, cosmetics, food and large-screen display, provides numerous business opportunities for global investors.
With more emphasis on the supply side, there is an incentive to provide better products and services, including state-of-the-art manufacturing, medical care and customized services.