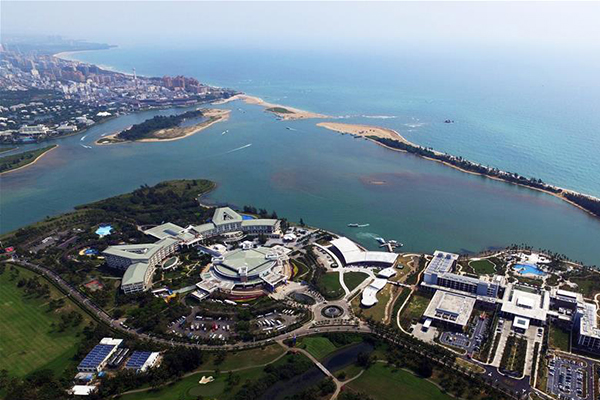 The aerial photo taken on March 18, 2016 shows the scenery around the Boao Forum for Asia (BFA) International Conference Center in Boao, South China's Hainan province. [Photo/Xinhua]
BOAO - The risk of debt crisis is threatening major emerging economies, according to a report by the Boao Forum for Asia released on Tuesday.
Debt crisis may erupt in the E11 (eleven emerging economies) countries, unless they make urgent de-leveraging efforts, the forum's 2016 report on the development of emerging economies said.
The report also warned of the possibility of contagious financial crisis among some E11 countries that are mired in debt with currencies that are depreciating rapidly against the US dollar.
Countries deep in debt have to maintain low interest rates in order to keep up with repayment, which further fuels borrowing and lending. Some of them might fall into a vicious cycle of borrowing to return debts when property prices drop or liquidity dries up, it said.
The E11 bloc was first mentioned in a report published in the 2010 Boao Forum for Asia. It includes Argentina, Brazil, China, India, Indonesia, the Republic of Korea, Mexico, Russia, Saudi Arabia, South Africa and Turkey.
The report also showed slowing trade among the 11 emerging countries in the first half of 2015 with the bloc's total trade of goods down by 12 percent and trade of services down by 3.8 percent year on year.
The report also predicted further slowing of growth among the emerging economies, predicting average GDP growth of 4.4 percent for 2016, down from 4.5 percent in 2015.
There are diverging trends among emerging economies, as some countries such as China and India have maintained solid growth, while others such as Russia and Brazil face a bumpy road. The growth of emerging economies, though slowing, is still much more robust than that of developed countries, it added.
This year's Boao Forum for Asia started on Tuesday. The four-day conference is themed "Asia's New Future: New Dynamics and New Vision."