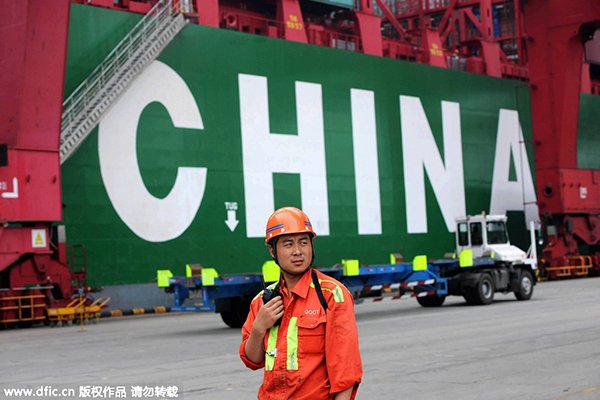 A stevedore works at Qingdao port in Shandong province, July 1, 2015. [Photo/IC]
BOAO - Regional economic integration in Asia is expected to deepen further as China moves up the international value chain despite weakening trade growth, experts who follow China's ongoing economic transition said on Tuesday.
"China's growing importance in the value chain will inevitably influence its economic and trade structures with these major economies (in Asia)," said Chen Lan, director of Deloitte Research at Deloitte China, in a report for the ongoing Boao Foroum for Asia in Hainan, China.
The report said that China's future industrial upgrade through innovation will enhance its position in the global value chain as rising production costs and labor costs in the country may weaken its position as the "world's factory."
"Despite slowed economic growth during the 13th Five-Year Plan, China still remains one of the most important global consumer markets," Chen wrote.
China is now in the middle of a painstaking transition from growth driven by investment and exports to growth led by consumption and the services sector. The official economic forecast for this year is between 6.5 percent and 7 percent, much slower than the wildly high growth rates of over 10 percent per annum a few years ago. Last year the economy grew by 6.9 percent.
China aims to double its per capita gross domestic product (GDP) by 2020 compared to 2010, a target that will catapult the world' s most populous country to the status of a relatively well-off society.
Speaking at a press conference in Boao on Tuesday, Justin Yifu Lin, former chief economist of the World Bank, said that he expects China' s economic growth to average around 6.5 percent over the next five years. Coupled with the expected appreciation of the yuan, this would mean China' s per capita GDP is likely to cross the mark of $12,000 at around 2020.
Lin said the Chinese economy remains vigorous as China targets more sustainable and inclusive growth. According to a new index unveiled by his team to measure the inclusive structural transformation of different economies, China has a score that is among the highest worldwide. The index is based on the New Structural Economics advocated by Lin, who believes that structural changes are the foundation of sustained and inclusive growth along the path to development.
Experts at the forum highlighted the slowdown in world trade growth as a challenge for Asia. A report commissioned for the forum by a team led by Lin Guijun, a scholar from China's University of International Business and Economics, said that growth in Asia's merchandise trade has slowed in the aftermath of the global financial crisis since 2008 as world trade growth also slowed. Ditto for global GDP growth, a situation that has not been seen in decades, though trade growth in Asia remains far more robust than that of the rest of the world.
China is now the world's leading trader and occupies a key position in the international value chain as a manufacturing hub. It is a top trading partner for major economies including Japan, South Korea and the Association of Southeast Asian Nations (ASEAN) and has inked free trade agreements with the latter two.