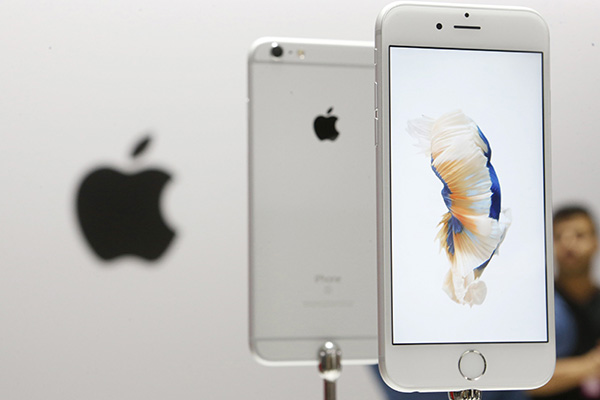 The new Apple iPhone 6S and 6S Plus are displayed during an Apple media event in San Francisco, California, in this file photo from September 9, 2015. [Photo/Agencies]
BEIJING - Despite Chinese customers seemingly insatiable hunger for the new Apple smartphone models, the iPhone 6s and iPhone 6s Plus, the handset still faces challenges, with the biggest likely from old models.
A research note shows that the previous models, iPhone 6 and iPhone 6 Plus, enjoyed stellar sales before the new handsets were released in September, which may encroach the market expansion of new models.
The two previous recent models were the best-selling smartphones in urban China from June till August, according to a report of the UK-based market research company Kantar Worldpanel.
"Buyers mentioned clarity and resolution, camera quality and screen size as the three most important purchase drivers," said Tamsin Timpson, strategic insight director of the company's Asia branch. In the three-month circle, smartphone sales represented 84 percent of overall phone sales in China.
The report did not reveal what is behind the favor for the last models, but it is a common phenomenon that some Chinese consumers, especially iPhone buyers, are inclined to choose the older version with favorable prices ahead of new product release.
So far, the new models have performed well in the Chinese market, the world's second largest after the United States. Apple sold around 3 million iPhone 6s and iPhone 6s Plus in the week after the launch, according to media reports.
In the US, however, market share for Apple iOS between June and August was at its lowest point since August 2014, as customers waited for the new products to become available in September, the report showed.