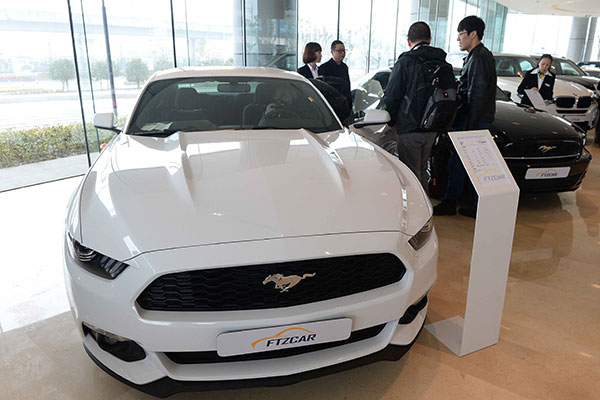 A transaction site for parallel import of cars at the China (Shanghai) Pilot Free Trade Zone. [Photo/China Daily]
BEIJING - The first draft of an antitrust guideline for the automobile sector is expected to be finished at the end of October, according to the National Development and Reform Commission (NDRC).
In addition to policy guidelines on monopoly violations, the draft, to be reviewed by the Anti-Monopoly Commission under the State Council by June next year, will also cover price-fixing violations by car makers selling products online.
With the rise of online retailers such as Alibaba and JD.com, consumers are looking for better deals online, and cars are no exception. This has caused controversy as it is unclear what is classed as fair play.
Concerns abound over the possibility that websites will facilitate price fixing, and, thus, impede market fairness.
General Motors said one of its brands intended to promote car sales during the upcoming Nov 11 shopping festival through an e-commerce site, however, it is hesitant as it is not clear whether the discounted online price will violate regulations.
The new guideline will look into online promotional pricing activities, helping to define what is and is not covered by the Anti-Monopoly Law, said Su Hua, an associate researcher at the Chinese Academy of Social Sciences and member of the drafting team.
China's antitrust law enforcement has been actively restricting price fixing in the automobile industry this year. Dongfeng Nissan was fined 123.3 million yuan ($19.45 million) last month on price fixing charges. Mercedes-Benz was fined 350 million yuan in April on similar issues. In total, two billion yuan of monopoly-related fines were issued in the auto sector this year.