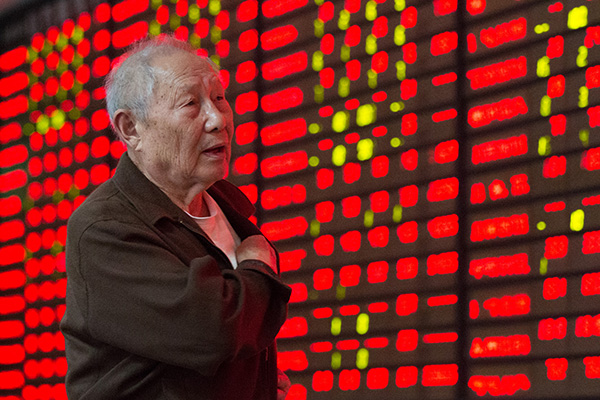 An investor looks at an electronic trading screen at a brokerage in Nanjing, Jiangsu province. [Asinewsphoto by Su Yang]
Chinese stocks surged to an eight-week high on Thursday as the government unveiled a plan a day earlier to reorganize the telecom industry, raising speculation of accelerating reforms of State-owned enterprises (SOEs) to boost economic growth.
The Shanghai Composite Index climbed 2.3 percent to close at 3,338.07, the highest level since Aug 21, while the CSI300 index of the largest listed companies in Shanghai and Shenzhen rose 2.4 percent, to 3,486.82.
An index tracking telecom stocks jumped nearly 5 percent, after China's three main telecom operators agreed to consolidate towers and related assets into a jointly owned firm, a move that would reduce duplication of telecom infrastructure.
China United Network Communications Ltd and China Mobile Ltd gained at least 2.7 percent after the government injected 231.4 billion yuan ($36 billion) of network assets such as base stations into a new company called China Tower Corp.
There is "speculation regarding another wave of SOE reform," the Bloomberg News quoted Gerry Alfonso, a sales trader at Shenwan Hongyuan Group Co in Shanghai, as saying.
"The economy is slowing down and a clear, but challenging, way of supporting the economy would be to speed up SOE reform. SOE reform remains one of the most solid investment themes," he added.
Following the release of weak inflation data for September, China's economic planner said on Thursday that consumer prices will continue to rise at a mild pace in coming months, and approved six transportation projects worth 68.6 billion yuan ($10.82 billion).
"There seem to be considerable expectations of further economic stimulus, which could mitigate some deflationary pressures," said Alfonso.
Reflecting rising risk appetite, outstanding margin loans in China rose in the past five sessions. Last week, investors' securities accounts witnessed weekly net inflows for the first time in six weeks.
Stocks in China rose across the board on Thursday, led by tech shares.
Yang Delong, chief analyst at China Southern Fund Management, said the sustained rally the National Day holidays was mainly attributable to strong oversold bounce momentum following the slump of the A-share market.
China's stock market started to drop four months ago, sending the benchmark Shanghai Composite index tumbling almost 40 percent from its June 12 peak as investors scurried for the exit.
Agencies contributed to this story.