A former Chinese vice-minister of commerce is predicting that China and the United States will reach a basic agreement on the long-awaited Bilateral Investment Treaty during President Xi Jinping's state visit to the US later this month.
The treaty is aimed at paving the way for unprecedented market access opportunities for companies and accelerate the recovery of the global economy.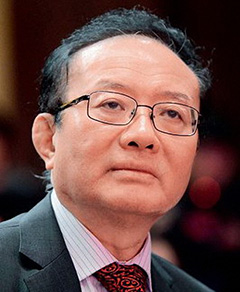 Wei Jianguo, vice-chairman of the China Center for International Economic Exchanges
In an exclusive interview with China Daily, Wei Jianguo, vice-chairman of the China Center for International Economic Exchanges, said: "It will mean a substantive leap in bilateral economic relationship, developing from goods trade to service trade and further into bilateral investment."
After 18 rounds of negotiations since the 1990s, Wei said the main obstacles to the BIT have been removed as a new US investment law opens more areas to Chinese capital, while China has shortened the list of industries that US investment are restricted to.
"It's only a matter of time before we reach a final consensus," said Wei, who was vice-minister of commerce from 2003 to 2008. "The BIT agreement between the two largest economies will boost global confidence about future recovery amid current sluggish momentum."
According to earlier research from the American Chamber of Commerce, the US is estimated to need at least $8 trillion in investment between 2013 and 2030, roughly $455 billion annually, for infrastructure construction in transportation, energy and wastewater treatment.
Wei said those are key target sectors for Chinese companies, adding that Chinese investment in US railways, roads, high-speed rail and power grids is also expected to rapidly increase after the BIT agreement.
He said that China will lower investment barriers for US high-tech companies, including those in the software, biologicals, pharmaceuticals and manufacturing industries.
Premier Li Keqiang dubbed the China-US BIT "a highlight" in the nations' relations, after the annual session of the National People's Congress, the top legislature, in March.
"This will break the ceiling for business cooperation and open up new dimensions for further growth in China-US ties," Li said.
Xi's trip will be the first state visit by a Chinese president to the US since 2011.
While there, Wei said he also expects Xi and US President Barack Obama to talk about macroeconomic policies, including the internationalization of the yuan and the US Federal Reserve's perspective on what that might mean for global monetary policy.
China-US economic ties are still based on the relationship between the largest developing economy and the largest developed country, Wei said.
"The fundamentals of the relationship are mutual respect, no conflict, and no confrontation. Economic cooperation should not harm each other's key benefits."