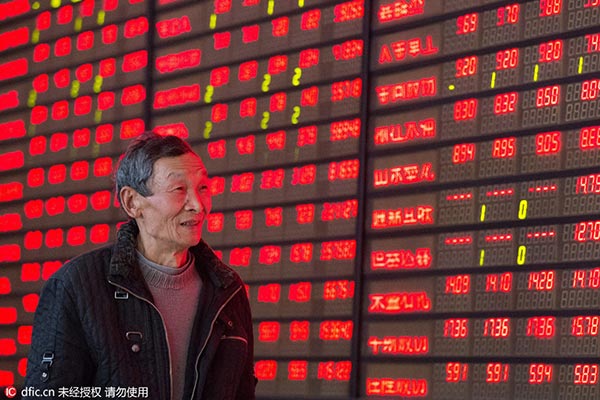 A Chinese investor looks at prices of shares (red for price rising) at a stock brokerage house in Nanjing city, East China´s Jiangsu province, March 21, 2016.[Photo/IC]
BEIJING - Chinese shares staged an impressive comeback on Monday as the State-backed margin lender resumed lending to brokers under all terms at lower rates.
The benchmark Shanghai Composite Index extended a six-day winning streak to climb 2.15 percent, reclaiming the 3,000-point mark for the first time in two months.
Security firms led the gains with the whole sector surging by the daily limit of 10 percent.
The strong performance came after an announcement by China Securities Finance Corp (CSF) last Friday that it will resume lending funds at five different maturities to security firms at lower rates, starting Monday, a move that analysts said could provide more liquidity in the market and boost investor sentiment.
The CSF suspended margin lending under four terms of shorter maturities in August 2014 without giving specific reasons. Brokerages could still borrow under the longer 182-day term, the rate of which is now reduced to 3 percent from 4.8 percent.
The reduction in margin lending costs signaled that regulators have deemed the leverage level in the market as "reasonable" or even "relatively low," said Guosen Securities, adding that such a move will help assure investor confidence.
Margin trading, where investors borrow money from brokers to buy stocks, has been blamed for bringing up leverage during market swings last summer.
Since then, the balance for margin lending outstanding has been declining by more than half before recovering slightly in recent times.
The rates cut by the CSF are in line with reduction in interest rates and reserve requirement ratio by the central bank, and will not boost the appetite for margin trading significantly, Guosen Securities said.
"The cut indicated that the market may have bottomed out in terms of liquidity, and we should not be very bearish on where it's going," it said.
Chinese shares have been gaining traction recently partly thanks to regulators assurance to shore up the market.
Official remarks, including that the stock registration reform will "take a relatively long time", "it's too early to talk about" the exit of CSF and the absence of any mention of a new board to list growth enterprises in China's development plan, have all surprised the market, indicating the regulators' intention to shore up investor confidence, said Haitong Securities.
On Monday, the benchmark Shanghai Composite Index hit 3,018.8 points while the smaller Shenzhen index closed 2.64 percent higher at 10,394.14 points.
Total turnover on the two bourses expanded to over 900 billion yuan ($138.8 billion) from 817 billion yuan last Friday.
The ChiNext Index, which tracks China's NASDAQ-style board of growth enterprises, rose 2.26 percent to close at 2,227.03 points.