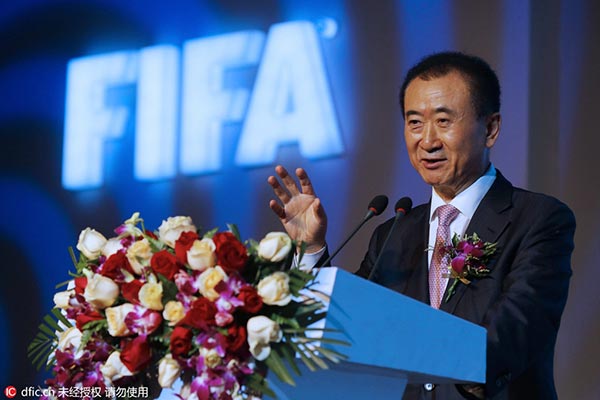 Wanda Group Chairman Wang Jianlin speaks during a press conference concerning the strategic partnership between FIFA and Wanda Group in Beijing, March 21, 2016. [Photo/IC]

Besides Wanda, two more Chinese companies will sign up as FIFA partners this year, Wang Jianlin, chairman of Wanda Group, disclosed on Monday.

"As far as I know, if everything goes smoothly, another two Chinese companies will become FIFA's top level sponsors this year," Wang told a press conference, without disclosing more details.

Property giant Wanda Group has signed a highest-level sponsorship contract with FIFA, according to a statement by the world soccer governing body on Friday. The contract will grant Wanda the highest level of sponsorship rights, which will be valid for 15 years and includes the next four FIFA World Cup editions, the statement said.

"Chances of China entering the World Cup will become brighter with more Chinese companies becoming FIFA's sponsors," Wang said.

The cooperation between FIFA and Wanda, Wang stressed, is not a money-for-fame deal but includes a package of agreement that will help promote the development of the soccer sector and the whole sports industry in China.

There are only eight seats for the top-level sponsors of FIFA globally, with US companies dominating the list. Wang said barring any accident, Wanda and another two Chinese companies will sit on the top spot with Adidas, Coca Cola, Gazprom, Hyundai Motor, and Visa Inc.

The financial size of the partnership has not been revealed but is believed to be one of the biggest in FIFA's history.

Wang said with economic development in China, the company has spotted the great potential of football, which he believed would catch up with the Europe soon.

"Football is the most popular sport in the world. This fact will not be affected by the temporary scandals," said Wang, alluding to corruption charges leveled against the football body. He said now is a great opportunity for Chinese companies to get involved with the industry around the world.

Since 2015, through the acquisitions of Infront Sports & Media in Switzerland, World Triathlon Corporation in the US, and the endurance sports sector of Lagardère Sports & Entertainment in France, Wanda has established an integrated value chain, including event organization, athlete representation, event marketing and broadcasting, to become the world's largest sports company by revenue.