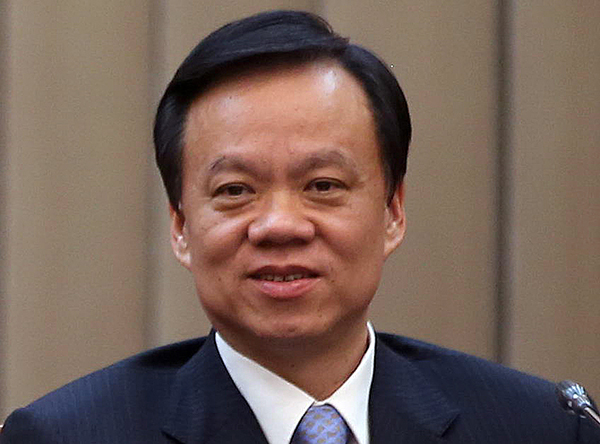 Chen Min'er, Party chief of Guizhou [Photo provided to China Daily]
Officials behind China's first big data pilot zone, being planned in Guizhou province expect it to attract huge number of talent from home and abroad for the cutting-edge industry.
The national big data comprehensive pilot zone will be an experiment in big data sharing, use, innovation and security.
"Guizhou promises to offer all-round services to big data projects and create convenient surroundings to key enterprises that are likely to invest here," Chen Min'er, the Party chief of Guizhou, said at the zone's inauguration ceremony, held in Beijing on Wednesday.
"We are offering favorable conditions to talented big data professionals willing to relocate to work in Guizhou."
Song Lei, assistant general manager of Nutshell Vision Information Technology Corp, a company involved in upgrading traditional agriculture in Guizhou using big data, said the new platform will be able to offer his company "infrastructure, hardware facilities, a talent support and help to find potential clients".
Nutshell Vision uses intelligent sensors to inspect the air and soil conditions of crops, and whether they are infested with pests, and then transmits the data to a cloud platform.
It also provides disaster surveillance and decision support for government administration departments.
"Guizhou has rich agricultural resources, and we hope to enhance the efficiency of production and increase farmers' income through our big data service," Song said.
The less-developed, southwestern province's reputation within China's overall big data development has been rising in recent times, after a number of major mobile network operators and Internet giants created cloud-computing bases and big data centers there.
China Telecommunications Corp, China United Network Communications Group Co Ltd, and China Mobile Communications Corp-China's biggest telecom operators-are spending 15 billion yuan ($2.4 billion) building three Internet data centers which are expected to house 2 million servers.
At the end of last month, another 880 new big data jobs were created in Guizhou and 13 new incubators related to big data have been set up.
Officials plan to invest a further 100 billion yuan into the sector's development, which could involve the opening of 1,000 big data enterprises and research institutes, and the introduction of a further 1,000 talent from outside of Guizhou.
The Guizhou government and JD.com Inc, China's second-largest e-commerce company, also signed a strategic cooperation agreement on Wednesday to promote the development of e-commerce in rural areas of the province.
Feng Qiujing, a spokeswoman for Guiyang Longmaster Information & Technology Co Ltd, said: "The government has been encouraging and supporting us to develop healthcare big data and as a local enterprise we hope to attract more big data talent to the city in the future."
Her company has opened what it calls "an Internet hospital" service, where patients can be treated online by top doctors from leading hospitals in first-tier cities.
Feng said this type of remote healthcare service solves many problems, such as an imbalance in national medical resources, and difficulties in getting treatment and advice to secluded regions.