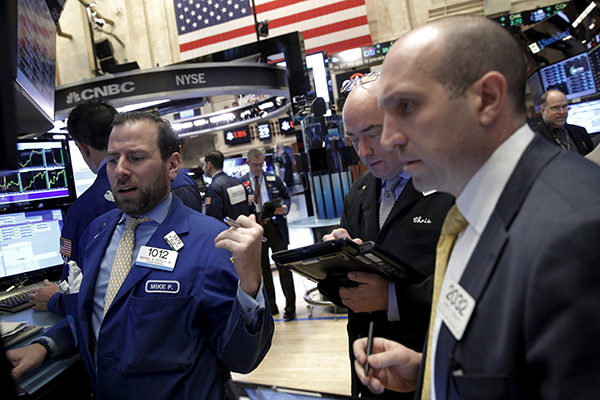 Traders work on the floor of the New York Stock Exchange February 29, 2016. [Photo/Agencies]
Apps empower share investors to look beyond Shanghai, Shenzhen and HK
A growing number of Chinese retail investors with an international mindset are seeking to diversify their portfolios and globalize their risks amid uncertainty over future growth prospects.

One option gaining currency is US-listed stocks, thanks to the emergence of mobile apps that offer global broking services.
For instance, the Tigerbrokers app helps investors set up stock trading accounts and buy/sell US stocks.
Similarly, Jimu.com, an Internet platform offering various wealth management products, launched a new service in December to help Chinese investors trade in US-listed stocks.
The number of Tigerbrokers users has surged since the app's launch in August 2015, when the startup received hundreds of millions of yuan in its first round of funding from Xiaomi Corp.
"In November, in terms of new users per day, we gained about 10 times that in August," said Wu Tianhua, chief executive officer of Tigerbrokers. Its monthly transactions reached 3 billion yuan ($456 million) in December.
"The worry over slowing growth worldwide and volatility in global stock markets are pushing more Chinese investors to diversify their investments overseas. They think it would be risky to put all their eggs in the Chinese basket," Wu said.
In the US stock market, investors can not only buy long but sell short, which helps cut risk, he said.
He estimated about half-a-million Chinese investors are into US stocks. Their number is expected to reach 700,000 by the end of this year.
"Many of China's leading Internet firms, such as Alibaba Group Holding Ltd and Baidu Inc, are listed in the US. Chinese investors are keen to own such shares," Wu said.
Feng Tao, head of stock investments at Jimu.com, said: "Employees of US-listed Chinese firms, those who work in the finance industry and the rising group of high-net-worth individuals, are the major Chinese investors in US stocks.
"With mobile Internet gaining currency, investors will manage more wealth via their smartphones than PCs. Given the trend of investing overseas, broker apps have huge potential."