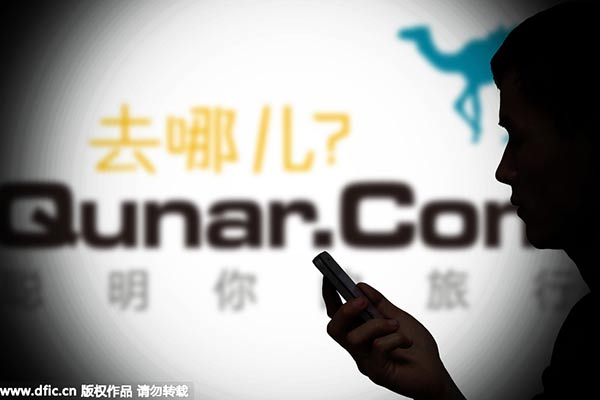 A pedestrian uses his mobile phone in front of a logo of online travel search service Qunar in Jinan city, East China's Shandong province, February 15, 2015. [Photo/IC]
Qunar Cayman Islands Ltd, China's second-largest online travel agency, is setting up a Shenzhen-based low-cost airline in partnership with two other companies from the city, in an apparent response to recent bans on its sale of flights for some major airlines.
Air China Ltd, China's flagship carrier, announced that it would suspend sales of air tickets by authorized agents using Qunar starting March 1.
At the end of December, Qunar also saw its cooperation ended with China Southern Airlines, Hainan Airlines and Capital Airlines, after a growing number of customer complaints on issues including prices, bundling tickets with insurance without pre-notice, and cancellations.
Air ticketing has been one of Qunar's fastest-developing income streams with revenues from flight and flight-related sales hitting 596.6 million yuan ($93.9 million) during the third quarter of 2015, a 91.2 percent rise.
"Major airlines closing their flagship stores on Qunar put some pressures on the website and then the suspension of air tickets was a real threat," said Wei Changren, general manager of Ctcnn.com Inc, a consultancy that focusing on the online tourism sector.
"Most domestic airlines usually act together. If other airlines follow Air China and suspend their ticket sales on Qunar, the website could face the dilemma that it has no tickets to sell," he said.
China's four major domestic airlines-Air China, China Southern, Hainan Airlines and China Eastern Airlines Corp-hold an 80-90 percent share of the domestic market, but analysts said there is still great growth potential for regional and economy airlines.
One industry source said Qunar's creation of a new carrier is more of a defensive move against the major airlines. What it is really doing is going beyond the bottleneck of the old business model of air tickets sales, since this could only provide a small profit margin.
But what it really needs to do is go beyond the bottleneck of air tickets within a new business development model, given that ticket-sale margins are relatively small.