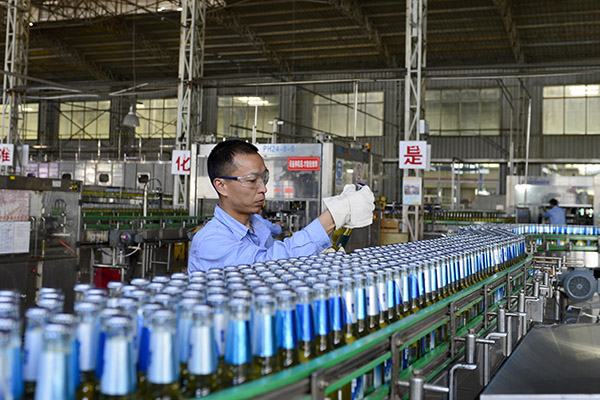 A bottling plant of Snow Breweries, a joint venture between China Resources Beer Holdings Co and the British SABMiller Plc. [Photo provided to China Daily]
Deal for the 49 percent shareholding is valued at $1.6 billion; firm's shares jump 18.15 percent
The largest brewer of the country, China Resources Beer Holdings Co, has agreed to buy out the remaining stake in Snow Breweries, its joint venture with SABMiller Plc, a move to free itself from a foreign partner in its effort to tackle the local market.
The deal for the 49 percent shareholding is valued at $1.6 billion. The Chinese brewer's shares jumped 18.15 percent to HK$15.1 ($1.94) on Wednesday.
The deal values Snow at 11 times the brewer's 2014 net income before taxes, according to data from Bloomberg.
The transaction has received regulatory approval, China Resources said in a statement on Wednesday.
China Resources has 98 breweries and its brand Snow Beer is considered the best-selling brand in the beer market in the country.
In 2014, in terms of volume, Snow Breweries had a 23.8 percent market share, followed by Tsingtao Beer at 18.4 percent, Budweiser Anheuser-Busch InBev NV at 14.3 percent, and Beijing Yanjing Brewery at 12.3 percent, and Carlsberg Group had 7.5 percent, according to a Mintel Report Executive Summary of Beer in China.
The market is consolidating with the top five companies taking about 75 percent of the total market.
"Beer is considered a very local product in China," said the Mintel report. "It is not uncommon for some beers to be among the top three run in their region of origin, but they are barely even available in other parts of the country."
Chinese consumers are demanding higher quality beer than simply mass-produced cheap lager, said the report.
The deal to sell the stake to China Resources may help AB InBev secure antitrust approval for its acquisition of SABMiller. Last year, Anheuser-Busch InBev NV, the world's largest beer maker, submitted a formal offer to buy SABMiller for about $107 billion.
The takeover of SABMiller will give AB InBev beer brands such as Peroni and Grolsch and create a company controlling of about half of the industry's profit-provided it gets past antitrust regulators.