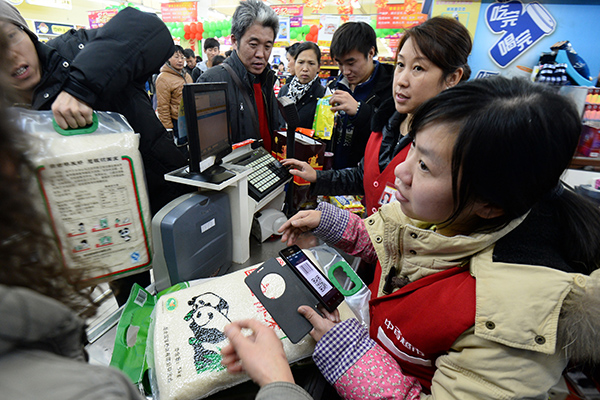 A consumer pays via a digital payment system in a supermaket in Wuhan, capital of Hubei province. [Photo/China Daily]
China has the highest adoption rate in the world for technology-enabled payment systems, according to a report released on Wednesday.
The report, from the market research firm Nielsen, is based on a survey of 13,000 respondents in 26 countries.
The survey showed that 86 percent of Chinese respondents said they paid for online purchases during the past six months via digital payment systems compared with a global average of just 43 percent.
"Chinese consumers have more payment choices for products and services than ever while digital payments will continue to win over more Chinese consumers due to its convenient nature," said Kiki Fan, managing director of Nielsen China.
The increasingly popular payment method is part of the rapidly evolving purchasing behavior of Chinese consumers.
About 98 percent of the respondents in China, the world's largest e-commerce market, said they had made purchases online.
The majority of them still make online purchases via computers, but the number of those who use mobile devices to make purchases is growing fast and is significantly higher than the average in other surveyed countries.
At 71 percent, food-related businesses topped the list of purchases made via smartphones while event ticket purchases stood at 51 percent.
The rising use of digital payments has attracted numerous players to the Chinese market.
Apple Inc launched its contactless payment system Apple Pay in the Chinese mainland last month. It allows users of the iPhone 6 or more advanced versions, certain iPads and Apple Watches to pay by their devices in bricks-and-mortar stores.
The new service immediately became a hit.
Apple's rival Samsung Electronics Co Ltd is expected to bring its own mobile payment service to China in mid-March.
China's Internet giants Alibaba Group Holding Ltd and Tencent Holdings Ltd have already taken about 90 percent of the mobile payment market, but industry observers said the competition is just about to start.
Kevin Dallas, chief product officer at payment-technology provider Worldpay, a major payment processing company listed in London, said that with more young people becoming smartphone users in China, only time can tell which company will be the winner of the mobile payment market.
"The only sure thing is that the market is going to be bigger and bigger and the competition will be fiercer and fiercer," he said.