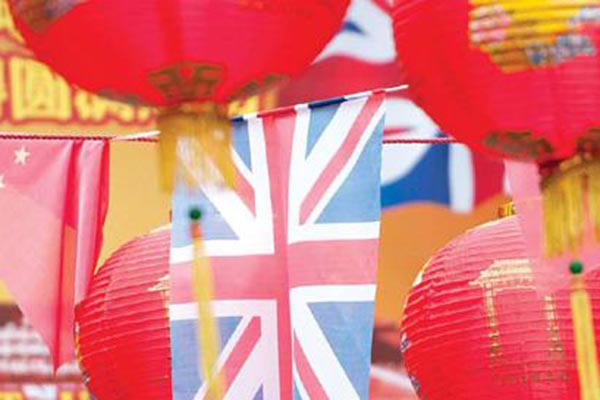 Chinese and British flags and paper lanterns are strung across Gerrard Street in London's Chinatown in October, 2015, during President Xi Jinping's visit to Britain at the invitation of Queen Elizabeth II. Provided to China Daily
China's National Bureau of Statistics released GDP figures for 2015, highlighting that the economy grew by 6.9 percent, compared with 7.3 percent in 2014 and against the official target of 7 percent.
In absolute terms, a growth rate of 6.9 percent added over $700 billion to China's economy last year – that's equivalent to a G20 sized economy (e.g. the entire economy of Saudi Arabia or Switzerland).
The 2015 data reflects the gradual slowdown as China continues its long-term transition away from a State-led investment and export-led manufacturing economy to being more dependent on service sectors and domestic consumption (which now account for 50.5 percent of the economy, up from 48.5 percent in 2014). Managing this transition is complex and at times challenging.
Like any economic data, it is important to look at the themes behind the headline figures. China is also a vast country and China-Britain Business Council (CBBC) sees substantial differences in trends across different sectors and regions. In some regions where more traditional heavy industries are prominent there are naturally lower growth rates, whilst in other regions that are focusing on newer industries and service sectors, growth rates are higher than the national average. Some traditional sectors face challenges, other industries such as service sectors and innovation-led sectors are flourishing, and UK expertise is greatly sought after.
Stephen Phillips, CBBC's chief executive, said: "As this adjustment takes place, in some ways its presents British companies with their best opportunities yet in China as new sectors and regions open up. There are enormous opportunities for UK expertise in education, healthcare, financial & professional services, advanced engineering, creative industries, retail and others. At CBBC we have published hundreds of such opportunities on our website."
Companies need to get granular to fully understand what is going on and how it impacts on their business. We recommend that companies talk to CBBC's Sector Specialists and China Business Advisors and also engage with our network of offices across China.
China is also looking at other ways to sustain and drive higher growth rates – such as improving its industrial output productivity, moving up the manufacturing value chain, investing in new smart manufacturing technologies, and improving resource efficiencies. CBBC will soon publish a report on the central government's aims for "Made in China 2025" which will explain this in more detail and highlight emerging opportunities for UK companies.