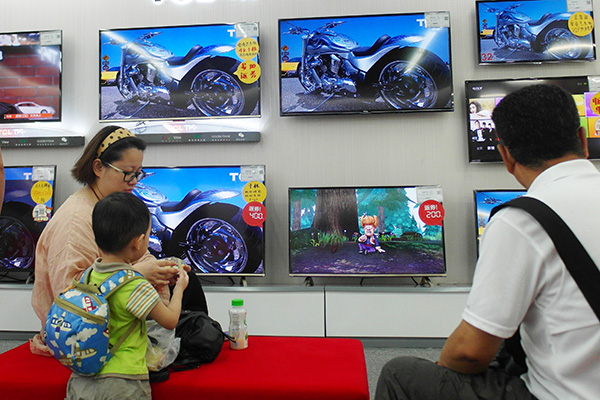 A woman and her kid select smart TV sets at a TCL television outlet in Yichang, Hubei province. [Photo/China Daily]
Smart televisions could well be the springboard for big data use, considering that the penetration rate for such products is already 70 to 80 percent in China, a top industry official said.
Yu Liangxing, the chairman of Beijing All View Cloud Data Technology Co Ltd, a consulting company that specializes in home appliances data said that the number of smart TVs in China is expected to surpass 200 million units by 2018.
Once we have a large user base, the commercial value of big data application will surge, he said, adding that the application of big data in smart homes, where electronic devices are inter-linked, is gradually expanding.
By 2020, the total value of smart home appliances is expected to reach 1 trillion yuan ($154 billion), and give the much-needed impetus for development of smart home products.
During the same period, the penetration rate of smart TVs will reach 93 percent, while that for smart washing machines, smart refrigerators and smart air-conditioners will reach 45 percent, 38 percent and 55 percent respectively.
Big data development has already been identified as a priority area by the government. In August, the State Council issued guidelines for big data development during the next five to 10 years.
According to Wikibon, a US-based research and consultancy firm, the total size of the global big data market is about $28.5 billion, a 53.2 percent growth from the levels in 2014. The size of big data market in China during the same period was $7.57 billion, up 28.4 percent from a year ago.
A corollary benefit of the widespread use of big data is the industrial upgrade opportunity that traditional manufacturing companies can get from smart home products.
Several Chinese home appliance makers like Haier Group, Midea Group, TCL Corp, Hisense Group and Gree Electric Appliances Inc have already chalked out strategies to develop smart home products
Last year, Midea invested about 3 billion yuan on a global research and development center in Shunde, Guangdong province. The center was focused on building an intelligent application platform and for incubating smart home products.
Xie Hui, the vice-president of the electrical appliances department at Samsung Electronics Co Ltd's China unit said the company is building a smart ecological circle with big data.
"We plan to connect all home appliances and devices through technologies like the Internet of Things by 2020. Our goal is to ensure that people can control these devices with Internet-enabled technologies, said Xie.