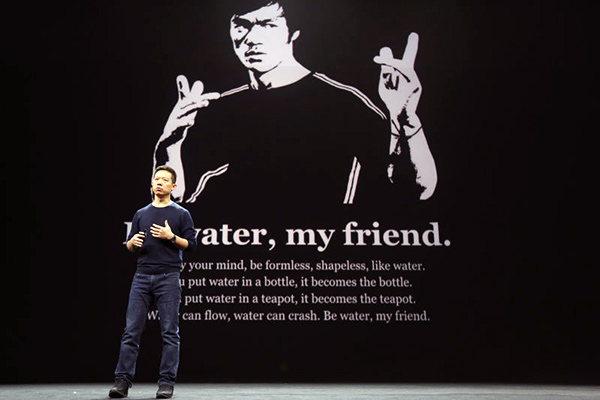 Jia Yueting, founder and CEO of LeTV Holdings Co Ltd, delivers a keynote speech on October 27, 2015 during the company's porduct launch event held in Beijing. [Photo provided to chinadaily.com.cn] 
As China's market becomes increasingly saturated, most of the domestic smartphone makers are spreading their wings in India to compete in the new battlefield.
"From smartphones, TVs to cloud computing, LeTV will gradually introduce all our products to the Indian market in the first half of next year," said Jia Yueting, founder and CEO of LeTV Holdings Co Ltd, during a product launch event on Tuesday.
The Beijing-based company announced the launch of a 120-inch TV priced at 499,900 yuan ($78,634) and a low-end smartphone targeted at young buyers in the 1,000-1,500 yuan range at the event.
Jia said one of the company's core strategies is globalization and the first step is targeting India and the United States. "Our theory is to create a localized business eco-system, a new blue sea market, rather than simply rush into a competitive market," Jia added.
In September, LeTV Sports, one of the company's subsidiaries, announced that it had won a three-year contract to broadcast the English Premier League in Hong Kong from the 2016/2017 season. The $400 million deal is believed to be the first step in the company's "go global" plan.