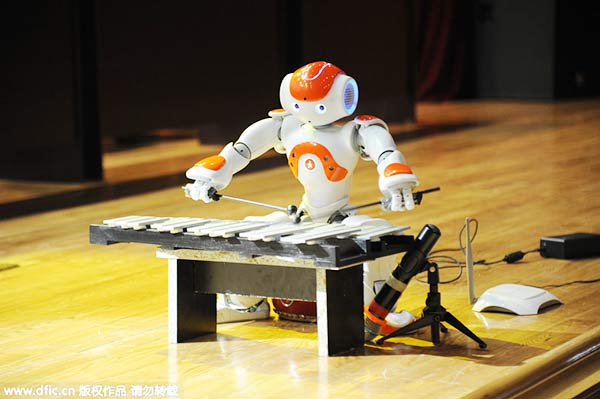 A robot plays a musical instrument at a national robots championship contest held at the Harbin Institute of Technology in July 2014. [Photo/IC]
BEIJING -- The performances of Chinese enterprises will diverge this year, depending on whether they are in traditional or emerging industries, according to a new report.
Companies in emerging sectors will grow rapidly thanks to help from the government as it aims to create new economic engines, the China Enterprise Management Science Foundation (CEMSF) said Sunday.
Sectors including robots and intelligent equipment will outpace traditional ones, and high-speed railway and nuclear power face historic opportunities, the report said.
Facing the economic slowdown, China is restructuring its industries to sustain growth, encouraging new sectors and reforming the old.
High-tech industries grew 10.2 percent year on year in 2015, much higher than the overall industrial increase. Emerging sectors have developed rapidly, accounting for 8 percent of GDP.
China's share of high-tech exports in 2014 hit 43.7 percent of all Asian countries, up from 9.4 percent in 2000, according to an Asian Development Bank report.
However, the CEMSF forecast large companies in traditional industries will continue to struggle. Factories in heavy industries are still squeezed by excess production and lackluster demand.
The government announced in early February that China will slash 150 million tonnes of steel capacity and 500 million tonnes of coal capacity by 2020.
The performance of China's large companies appears to be more divided than smaller firms amid the current economic hardships, a survey from China Enterprise Confederation showed.