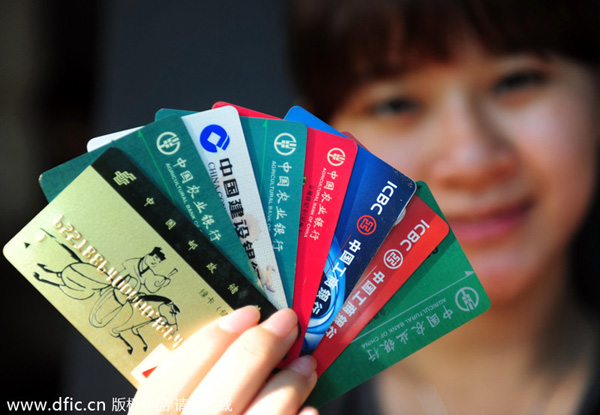 A Chinese woman shows credit cards and other bank cards in Qionghai city, South China's Hainan province, April 14, 2012. The non-performing loans' ratio of China's commercial banks reached 1.67 percent, up 8 basis points quarter-on-quarter by the fourth quarter of last year.[Photo/IC]
Bogged down in billions in NPL, lenders outsource the recovery function to external agencies
The voice of Li Wen, 28, a debt collector in Shanghai, became hoarse earlier this month, due to hundreds of high-decibel phone calls in the past two months to credit cardholders who defaulted on their repayments.
Li's employer, Shanghai China Promise Ltd, foresees high demand for firms like itself as various types of lenders, including banks, are expected to outsource debt collection due to rising bad loans.
For China's banks, peer-to-peer lending platforms and microfinance companies, the problem of non-performing loans or NPL intensified in the past five years.
That brought about a need to hire specialist debt-collection agencies, particularly in regions where credit expanded and economic growth slowed, said analysts.
For, employing a full-time team of hundreds of debt-collectors could prove a huge cost for lenders.
Chai Jun, a manager with Shanghai Heng Xin Asset Management Company, said it may cost more than 3 million yuan annually for a branch of a commercial bank in Shanghai to hire a full-time debt-collection team dedicated to errant credit card-holders alone. However, outsourcing the whole task could cut the cost by more than half.
The need for external debt-collection agencies is particularly felt before the end of June and December every year, the "seasonal peak" for lenders that scramble to meet regulators' half-yearly asset quality requirements.